Hello valuable members,
As you have already been notified by e-mail, we are in the process of updating the forum with a lot of new and exciting features.
Below you can follow all the many new features we add regularly.
As you have probably noticed, our logo has been replaced, below you can see it in large format until we get the logo at the top made a little bigger.

So what have come of new features in OffshoreCorpTalk V.2.0?
It is possible to use a "thread prefix" called "question" - for threads that are based on questions for other users, and, which are flagged as "Question" when you create a new thread. See picture below

All threads created as an "question" will have the options for other users to upvote or downvote a question.
Soon we will make a seperated category here on OffshoreCorpTalk.com that will list ALL real question threads, means threads created as question.
Latest News - hit the HOME button
on the uppe left side of the forum. We will continue to publish news about the forum there as well as promote threads which may be of special interest to users.
If you want to follow what is going on here, that's where you can find additional information.
User Profile Banner
Now you can change your Profile Banner, the one that appears with a click on your username.
You just need to click the "Edit profile banner" button to be presented with an overlay which allows you to browse for and upload an image from your device.
After uploading the image is now displayed in the user profile header. So much fancier
Username change management
While not particularly significant, we get around 50 requests per year from people wanting to change their username.
It's not a particularly arduous process but the user has to contact a staff member first, we then attempt to verify there aren't nefarious reasons for the request, then we check when they last changed their username as we don't like people changing their names too frequently, then we have to log in to the admin control panel to check the name isn't already in use before finally making the change, (sometimes) updating their custom user title and telling the customer that we've done it.
Wait... actually... that
is
arduous. So we made it simpler. And, while it is now simpler.
First and foremost we've added a permission to control the ability to change your username.
Next, you can change your username every 30 days if required.
PUSH Notification Enabled with the new Xenforo 2.2
After the upgrade to the new version of Xenforo it looks like the Push notification system can stay enabled.
We are still monitoring the situation, for now we hope the best and that you enjoy all the new features
Mobile Friendly OffshoreCorpTalk - App!
With version 2.0 of OffshoreCorpTalk.com there comes a Mobile App, you will get prompted for it if you are on an Android based phone. It does not work for Appl IOS
Keyword Linking feature​
As some of you may have already noticed, there are more and more words in your posts and threads which are marked with a small "i" and marked with BOLD - when you hover over the text you get a thorough explanation of what this particular word means. We hope it can be a useful help to everyone.
​
Animated GIF's in your posts from GIPHY​
As something new and fun, we have implemented GIPHY - animated GIFs that most people probably know from their smartphone. They are meant as a fun addition to the smilies that were already there before. Hope you get some fun out of it, but now do not overdo it.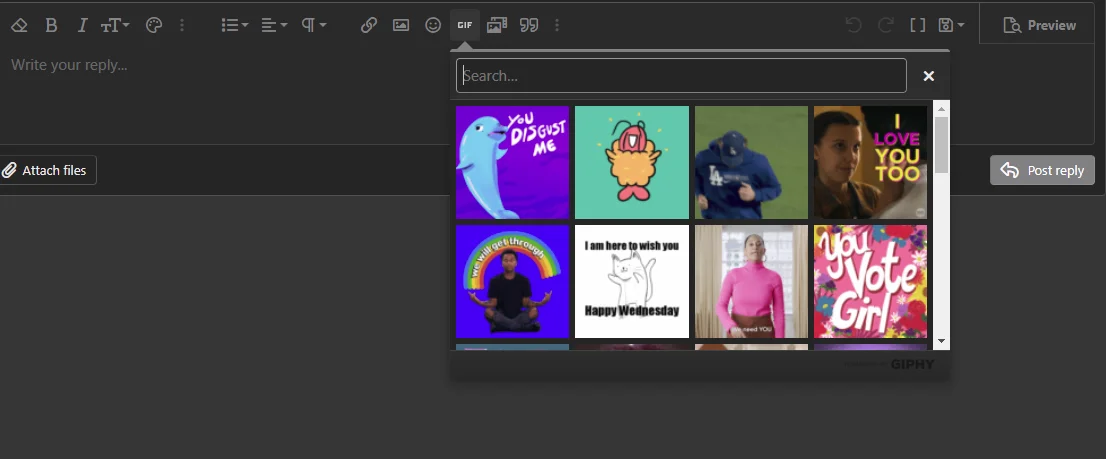 Last edited: