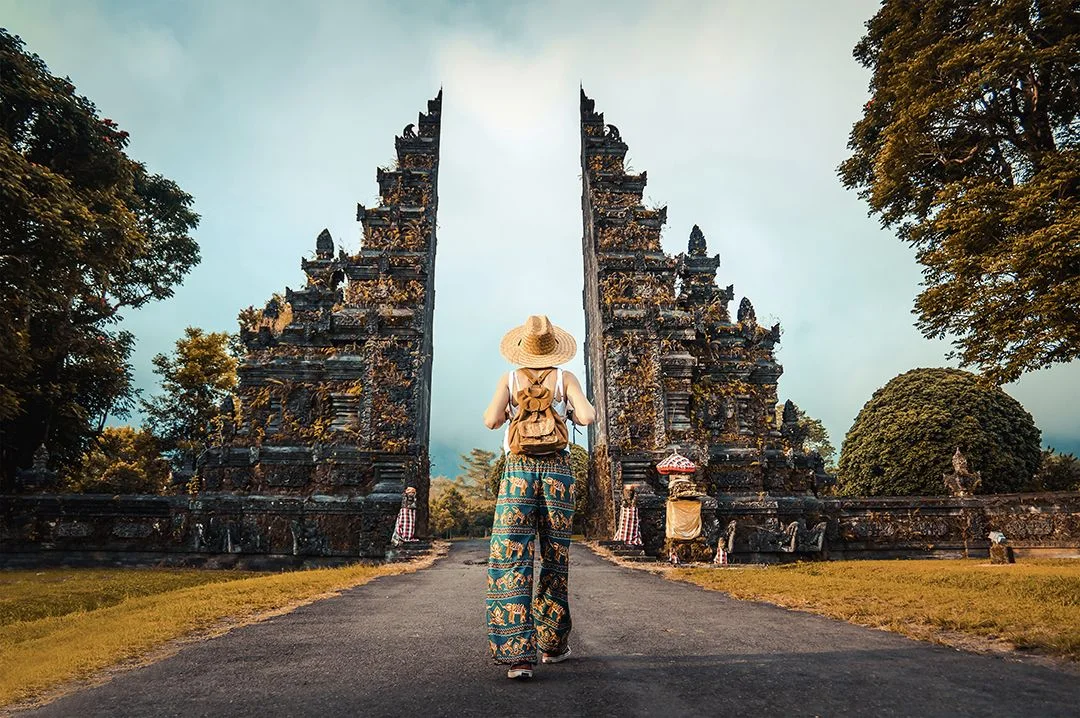 Located in the southern part of Asia,
Indonesia
may not have the popularity of
Thailand
, but it is quickly catching up. From many points of view, there are not too many differences between the two cultures, yet each of them has its own identity.
Indonesia is the kind of country where you can live in the capital and enjoy access to all kinds of facilities
, but also the kind of place where you can take a boat trip from the capital and reach unique beaches, crystal clear waters, and even private islands.
This is the type of country where you can easily eat for less than $20 a day, as well as the country where you can get an assistant to drive you around and clean your house for under $200 a month.
What can be better than that?
To many business people and freelancers, Indonesia is an
emerging jurisdiction
that will gain more and more notoriety in the future. It is excellent if you want to feel like you are always on holiday, not to mention getting a decent balance between your life and work.
Obviously, it implies following some procedures to get the Indonesian residence permit. It requires a bit of homework and some documentation – plus, the process is not the most streamlined one in the world. At the end of the day, it is totally doable and also worth it.
On the same note, the
government
is also pushing to change some laws and regulations in order to attract more foreigners and boost foreign
investment
. Bottom line, here is what you need to know to ensure you do everything by the book.
A few words about Indonesia​
Indonesia is located in the southeastern part of Asia
, but it is also considered part of Oceania. It is conveniently located between the Pacific and Indian oceans. Believe it or not, there are more than 17,000 islands in this country, with some of them obviously dominating.
The most popular islands include Sulawesi, Java, and Sumatra. In fact, this is the world's largest island country. It is also among the most populous countries in the world. Java is the most populous island out there and hosts about half the population.
The local economy is mixed, meaning both the government and private sector are extremely important. Indonesia is the only
G20 state
in this part of Asia, meaning it is considered to have the best economy in the area.
Among foreigners, Indonesia is known for its beautiful landscape and tourism opportunities, as well as the low cost of living and the welcoming environment for business – things are likely to get even better in terms of business.
The climate is tropical, meaning the weather is quite hot, and there is plenty of humidity. There are a couple of monsoon seasons, which are normally rainy. As a general rule of thumb, you should find temporary accommodation before even moving to Indonesia.
If you plan to travel to work, you do not necessarily need a work visa. They are difficult to get, and fortunately, most employers do that themselves for their foreign workers. As for the public health care system, it is not the best in the world, so most expats opt for the private sector.
For most people out there, Indonesia is about white sand beaches and incredible scenery. However, there is much more to appreciate in Indonesia. You will get into an ancient culture with plenty of
rich
influences.
Each island will give you a different perspective on Indonesia due to different cultural influences. There are plenty of opportunities out there, while the old fashioned lifestyle and low cost of living make it a favorite among expats. Now, what should you know about the Indonesia residence permit?
Advantages of getting the Indonesia residence permit​
There are more and more foreign nationals choosing to relocate to Indonesia on a yearly basis. Applications for residence have also grown lately, and there are plenty of reasons wherefore foreigners choose this jurisdiction – most of them relate to work and family though.
The Indonesia residence permit allows you to live legally in the country, but also to work – whether you work locally or you do it online. Obviously, you must meet some criteria and handle a few requirements, not to mention the obligations associated with the residence.
Residents will receive a card, which can be used to prove their status. Furthermore, it is worth noting that just because you can get an Indonesian residence permit, it is not a nationality, and you do not have to quit your current
citizenship
.
Those who want to start a business in Indonesia or perhaps a family will benefit from a long-term stay – no risks at all. There are more benefits associated with the residence permit, though, apart from being allowed to live and work.
The possibility to travel freely all over the country, with no restrictions at all.
Get a legal tax identification number, which is the base of numerous processes in the country.
Own a property in a joint venture with an Indonesian spouse.
Join and activate civic forums.
Open different types of bank accounts.
Leave and enter Indonesia without any restrictions.
Become an investor or a director in a company.
The option to get loans from local banks
Get an Indonesian identity card – usually valid for five years.
Own a car.
Benefit from lower prices at tourist attractions.
Types of residency in Indonesia​
Getting an
Indonesian residence permit
implies choosing between a few different options – there is no such thing as a general permanent permit. Instead, you can go in one category or the other. Two permits stand out among foreigners.
The ITAS (
Izin Tinggal Terbatas
) is a temporary residency permit. It is by far the most common option among foreigners in Indonesia. Obtaining this permit is not that difficult, and it comes with a plethora of advantages.
For example, you will be allowed to live in Indonesia for up to two years. You can renew it a few times, meaning you can get up to six years of residency in Indonesia. Getting this permit is a straightforward process and should be done in less than four months.
The ITAP is different, though. Standing for Izin Tinggal Tetap, this is practically the permanent residency permit. This option is not as common as the other one among expats. Plus, you need to go through the first permit first and hold it for at least five consecutive years.
Once your five years in the country pass, you can apply for permanent residency. Should you get it, you will be allowed to live and work in Indonesia for five years. You can renew it every five years, but you cannot exceed 25 years of residency on this permit.
Most business people, freelancers, and digital nomads will choose the first option – after all, six years are usually more than enough for them. On the other hand, the permanent option is more common among those who find love in Indonesia and choose to remain there for their spouses.
The ITAP requires the ITAS first, but the ITAS also comes with some requirements. To be able to get this permit, you need a visa to enter and stay in the country – the so-called VITAS, which is a limited stay visa. This is a single entry option for foreigners.
Most people who get this visa will do it for work, research or investments. You can renew it once a year. It is highly recommended to start the procedures to get the ITAS as quickly as you can if you plan to stay in Indonesia for more than that.
Requirements for the temporary Indonesia residence permit​
Both the temporary and permanent residency permits in Indonesia come with some requirements. They are not too sophisticated, but certain paperwork may come with some challenges. Here is what you need to know.
Should you decide to stay more than a year in Indonesia, you must apply for the ITAS. To first piece of paper to bring is a recommendation letter from a company or a sponsor – easy if you are there for a work project or research.
The next step implies completing an application form. You can download it for free over the Internet – you might be asked for two identical forms though, so do it twice. On the same note, take two passport pictures with you – the more recent they are, the better.
Local authorities will need to know more about you, so the process will feel like applying for a job. Get a CV and make sure you cover anything they may need to know about you – imagine you are applying for your dream job.
When it comes to your passport, it should be valid, and it must have at least a blank page for your visa. The validity depends on the staying period. For instance, if you want to stay for a year, you will need at least 18 months in validity.
Now, you need to get in touch with the local directorate general of
immigration
. This office will have to release an authorization letter, which will go into your application file. Finally, make sure you make the payment and include the proof in the file.
The fee depends on where you come from. Some foreign nationals will be charged less than others. For example, Americans will need to pay just over $100 for the application, while Australians must pay around $165.
Requirements for the permanent Indonesia residence permit​
The permanent Indonesian residence permit comes with a few extra requirements. Moreover, applying for it will introduce you to a stricter process and tougher demands. Here is what you need to prepare for your application.
The classic recommendation letter is a must for this type of residency too. You need to get it from a company or a sponsor. If you plan to work in Indonesia, your employer will be able to provide such a letter.
Second, you need an expatriate placement plan. Make two copies and throw them in the file. This plan is practically a piece of paper. You will need to get it from the company or ministry for an investor – a different application and a bit of waiting time.
The passport must be valid, and each page will be photocopied – including the ones with visas from previously visited countries. You will also have to provide a certificate of domicile, which proves that you actually have a place to stay in Indonesia.
This application will also require a CV. You can use the one you used for the ITAS, but you need to update it with the latest news – your move to Indonesia, work, and other achievements. Do not forget the administration fee and the proof of payment – again, it varies from one country to another.
Now, you can apply for the ITAP only if you have had a valid ITAS for the past five years. You need to reside in Indonesia for five consecutive years in order for your application to be considered. The ITAS can cover up to six years with a few renewals, so you should be alright.
How to apply for the Indonesia residence permit​
The process does not begin in Indonesia, but in your current country – you do not necessarily have to be a citizen. Just look for the closest Indonesian embassy – that is where all the procedures will begin for the Indonesia residence permit.
Get in touch with the directorate general of immigration, which is hosted on site. You will need to get a recommendation. There are no serious reasons to be rejected, so this is only a formal thing to do in the process.
Once you get the paper, simply start focusing on all the documents required to apply for the actual visa – the so-called VITAS. All these documents will go to the local embassy as well, so there is no need to head to Indonesia yet.
There is plenty of bureaucracy involved, so do not just try to walk in. Instead, you need to find out the times needed for each service. Different services have different times when it comes to receiving applications.
The good news is that processing applications are usually a quick service. The
embassy
will not need more than three days to ensure everything in your application is alright and process it. One paper, in particular, will be a bit problematic – the immigration recommendation, which may require an Indonesian contact.
Now, what else should you know about this visa? First of all, it is not valid as soon as it is issued. Instead, it becomes valid three months after being issued. This is not necessarily a bad thing, as you have time to settle everything back home and buy some early tickets, not to mention finding a home.
Other than that, you should know that administration fees are not refundable. Once they are paid, they will not always guarantee that your application is accepted. There will be no refunds whatsoever if your application is unsuccessful.
There is not too much time to lose once you get to Indonesia. The ITAS application must begin straight away. Authorities will normally give you seven days to start the application if you think you will need more than just the visa.
Fail to do so, and you may end up fined. Fines can reach $20 a day, depending on how long you delay it. There are not any major differences between the VITAS application and the ITAS procedure. The main difference is that the second one is done in Indonesia.
You do not have to find an embassy but a local police station or immigration office to get the permit. Unlike the application for a visa, the one for the Indonesian residence permit will take up to four months – there are reports of people getting the permit in as little as a month.
Keep in mind that you are not allowed to leave the country throughout the application. If it does take months to complete, the waiting game will be a nightmare, especially if you have other things to do. There are no exceptions to this rule, though.
But here comes some good news. Assuming all your papers are alright, authorities will not try to bug you about it. You are less likely to be asked for additional papers. Moreover, the success rate of permit applications is extremely high.
Finding accommodation in Indonesia​
Just like you need a visa before the Indonesia residence permit, you will also need to find accommodation before actually getting to the country. It may seem a bit difficult if you are not there to see properties, but it can be done.
As with any move abroad, you must find some sort of temporary accommodation. It will ease the transition to permanent accommodation – plus, you have a place to stay once you get into the country, which is extremely important.
Temporary accommodation goes in more directions. You can rely on serviced apartments, but you can also get suites in hotels. Opt for large and reputable companies in safe areas, even if they cost more – they are safer and more professional.
Just like anywhere else, bigger cities provide more possibilities and facilities. That is where all the tourists would go, too, meaning there is less of a cultural shock. Moving to a large city – such as the capital, Jakarta – means accommodation is readily available.
When looking for permanent accommodation, you can rely on major real estate agencies. Explore the neighborhood before committing to something – you want something safe, not to mention transportation links.
Staying safe in Indonesia​
Indonesia is not the safest country in the world, but common sense will keep you safe. The past years have brought in a few terror attacks over foreigners – Bali in 2002 or Jakarta in 2009 and 2016. Such cases are rare, though.
As a new foreigner resident, you need to stay vigilant in this country. Keep a very low profile and avoid showing off, not to mention following the news. Some areas should be avoided – Central Sulawesi, for example, or Papua.
It might be a good idea to register with the local embassy of your country too. This way, the embassy can keep in touch with you if any problems arise. It will also have your contacts for emergency situations – not necessarily related to crime, but also related to natural disasters.
Just like in all major cities around the world, crime is quite common, but it can be prevented. Stick to official taxi companies and book them directly. Keep an eye on your card statements and avoid losing sight of your card – even when paying in bars or restaurants.
If possible, get a few prepaid cards and only load them up with what you need at the moment – this way, there will be no risks at all. It might be a good idea to stick to bottled drinks when enjoying the local nightlife too.
As a foreigner from a western country, chances are you will stand out in the crowd, so you might be a target. Stick to safe areas and eventually join a few expat groups or communities – new friends and the possibility to learn more about the area.
Conclusion​
As a short final conclusion, the Indonesian residence permit goes in two different directions, and there are plenty of requirements. The process is straightforward, and most of the papers are easy to obtain. There are two types of permits – temporary and permanent.
At most, you will not be able to exceed 31 years in Indonesia. You will be able to spend six years in Indonesia on the temporary permit, as well as 25 years on the permanent one. If you want to stay more, get citizenship instead.
No matter what type of permit you are after, you need to know that a visa is mandatory first. You need this visa to enter Indonesia and start the procedures for the temporary permit – it can be obtained from any embassy in the world, though.