Hi,I'm a victim of panamalaw.org they scammed me for more than 3000 usd, I wanted to incorporate a company with them with some additional services, they never made the incorporation of my
panama
company nor did they even replied to my e-mails.When I tried the livechat of panamalaw.org scam, some kiddi got online which didn't even told me why they are not going to incorporate the company I paid for !!!
BIG panamalaw.org SCAM
Now I was that frustrated that I began to google for panamalaw.com scam, and guess what I found?! Tons of complaints about how panamalaw.com rip off people for millions....Here are a few of the forums I found:
Panama Legal is a HUGE SCAM OPERATOR!
Here is a snap from a Yahoo comment, seems many are aware of it but they are masters in google seo and promote that heavely that the scams get down under all the false and promoting stuff they publish.../forum/attachment.php?attachmentid=11&stc=1&d=1265881091And here another poster is making aware of that they try everything to hide they are a scam:/forum/attachment.php?attachmentid=12&stc=1&d=1265881599Let it be said... Panamalaw.org aka Panama Legal is a huge ilegal operation, fraud and scam...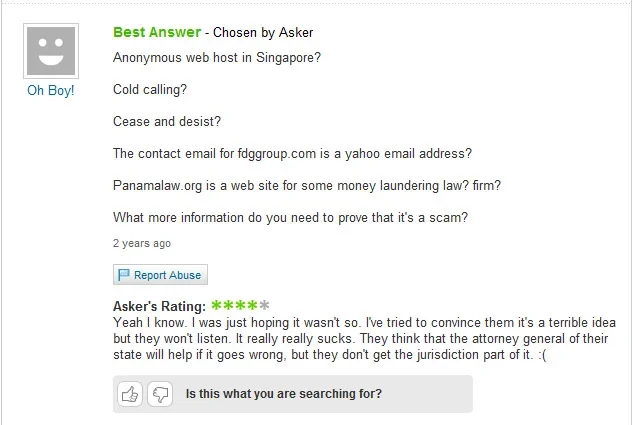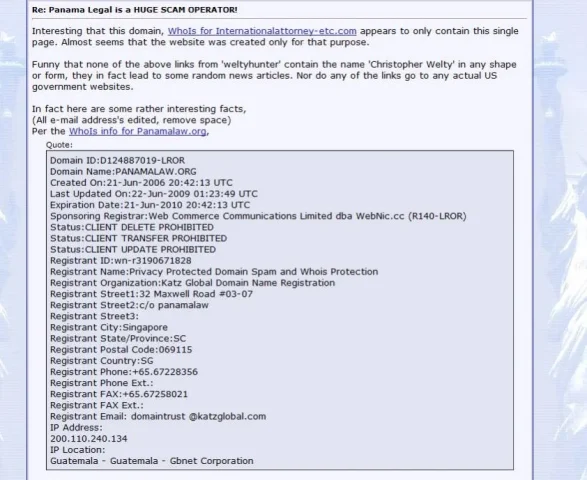 /monthly_2010_02/panamalegal-scam.jpg.4b1061401ca089727996b328d66326bd.jpg
/monthly_2010_02/panamalegal-scam2.jpg.45e96a2e6580f079859d9b2fcdb6cfeb.jpg
Last edited by a moderator: