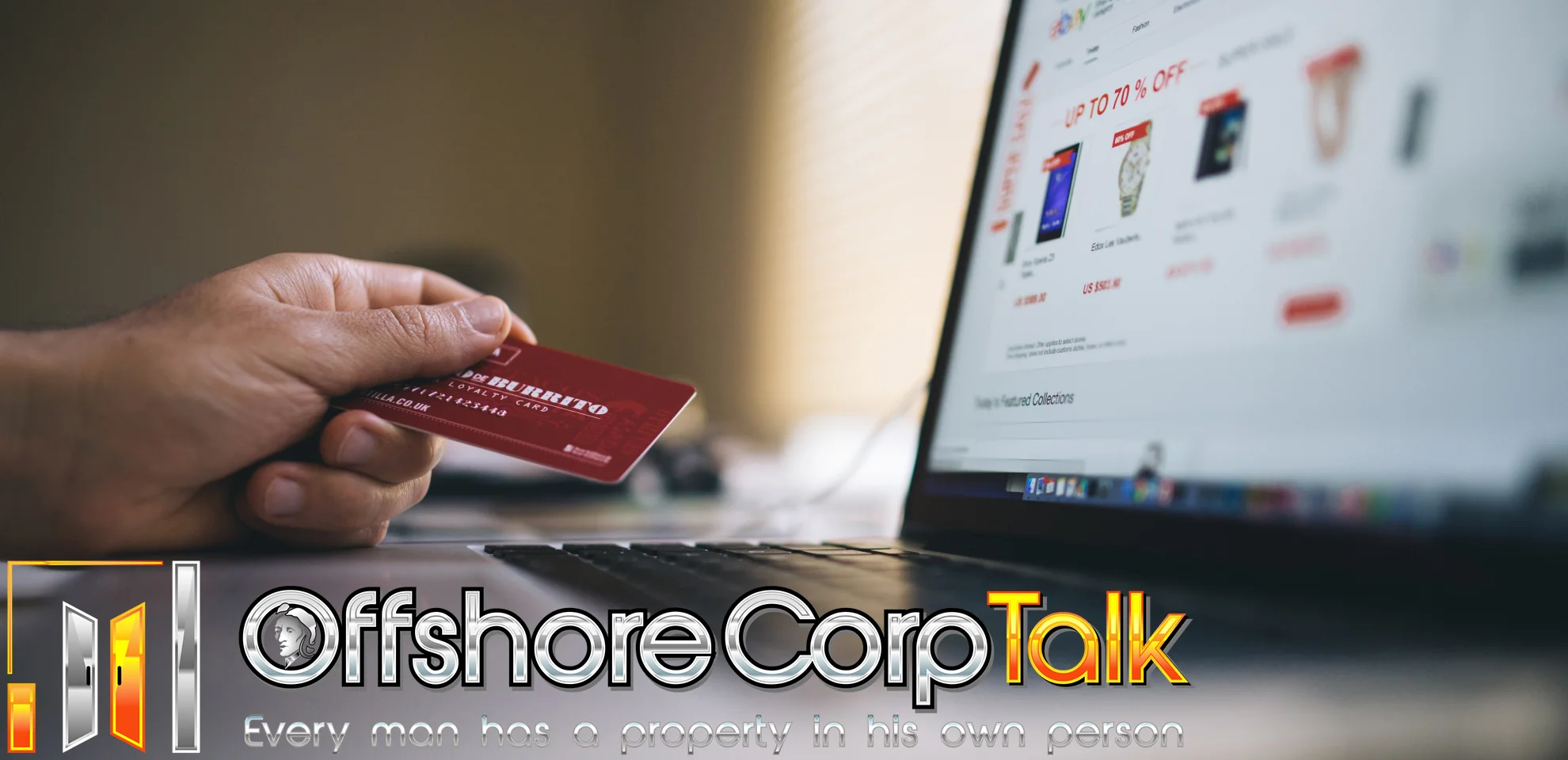 Businesses and industries considered high risk are exposed to a series of problems. Even if your business is doing alright and you have a good plan for its growth, chances are you will still face lots of difficulties in the wrong run. Most importantly, in the early stages of your business, you will struggle finding a good payment platform, loan, credit card processor or merchant to help with your finances. Chances are you will end up with high rates, as well as other unpleasant terms.
Generally speaking, there are two factors that can determine whether or not a business can be deemed as high risk. First, the business operated in a high risk industry. Second, the business has a decent risk of financial failure. One of these conditions is more than enough to ruin the financial start of the business. Both of them can be disastrous. The first one works on the safety of your business and the second one targets the continued profitability.
The global economy is in a constantly changing environment because everyone has the exact same goal. Practically, businesses are aiming to boost as much profit as they can, not to mention reaching as many transactions as possible. The overall number of sales dictates the actual profit. There is another thing businesses have in common though – the financial system. Businesses depend on banks for bonds, merchant accounts, loans and so on.
In most countries, the banking system classifies businesses by more criteria and they can be low, mid or high risk. If you count yourself in a high risk industry, get ready to face some struggle as trying to secure a solid banking deal. In order to understand these rankings, you need to become familiar with how a business works. Furthermore, you need to understand that there is a chain between every part included in a transaction.
Simply put, the customer hopes to get a high quality product or service. They want the exact same thing that the seller has advertised for. On the other hand, the merchant aims to get the full payment at the optimal time, as the buyer commits to get the product or service. On the other hand, the financial institution behind the business hopes the two parts will stick to their agreement and there will be no disputes or quality issues.
The financial institution is the part in this process that grabs the maximum risk in terms of processing payments. Therefore, such institutions try their best to avoid high risk industries as the process is not as smooth as they hope. With these aspects in mind, an industry facing many disputes and restrictions is also considered to be a high risk unit. The list is extremely diversified and each industry can pose some risks, but some of them tend to stand out in the crowd.
Exploring the most common industries deemed high risk​
Any of the above mentioned industries carries high risks and can expose banks to a series of problems in the long run.
Adult entertainment​
Adult entertainment represents a solid business today. It is everywhere and it can trigger anyone's interest. With all these, there is a risk involved. Sure, the industry can be split into multiple domains, but at the end of the day, it is quite difficult to track the content streamed by a merchant. This kind of issue comes up with extra risks for payment processors and banks, hence the undesirable financial deals offered to such businesses.
Risks are not necessarily given by the industry itself, but by the potential issues that may arise in the long run.
For example, some platforms may end up streaming child pornography, which is illegal in most countries out there. Then, there are many countries that do not accept the production and distribution of pornography. The business could be involved in legal issues that will inevitably affect the bank for backing it up.
Gaming services​
Gaming is definitely a solid business. With billions of gamers all over the world, professional competitions and multi million awards, gaming can embrace multiple forms and can easily top many other businesses. Some businesses may provide gaming streams and live platforms for interaction and chats. Some others may come up with competitions and awards, not to mention gaming developers who are always pushing for more.
No matter what you are after, this industry is too volatile to be considered safe,
so most merchants would rank it in the high risk group. If you are into developments, you may breakthrough tomorrow or fail for 10 years in a row. If you are after organizing competitions, banks do not know too much about the field – no one can tell whether or not you will succeed. The high volatility is what makes this industry a risk for most merchants.
Gambling​
Gambling – and especially uncoded gambling – poses a series of risks,
mostly because the industry itself is associated with financial tricks to ensure success. For example, most such businesses are registered in other countries. This will inevitably raise some question marks when it comes to finding a merchant – is it a matter of taxes? Is it a matter of safety and security for the actual business? Merchants will want to know upfront.
Second, the industry is generally profitable, but there is always that risk – what if the payout exceeds the profits? What if a single bet or a jackpot will ruin everything for you? In any of these situations, the merchant will inevitably be affected as well. Furthermore, the industry can cause addiction and has been associated with a few scandals – all these things have added to its bad reputation, despite of how clean your project is.
Multi level marketing​
Multi level marketing (or MLM) businesses are always considered high risk because of the statistics – only a few actually manage to make it, while others will close before making any profits. Such businesses are relatively easy to start with a low budget, yet they require an initial
investment
. Such investments can be small. However, some of them involve purchasing various products in bulk before actually going out for sale.
The issue with these businesses is the fact that they depend on the business owner.
Initially, they begin as one man businesses, but they expand. It all depends on how successful the individual is in selling products and convincing people to join the trend. Since banks are less likely to know the individual's skills upfront, they would rather stay away from this industry. Again, statistics are not too encouraging either for
MLM businesses.
Travel services​
Travel services can go in more directions.
Some of them are extremely successful to a certain level – such as airlines. Others are less likely to succeed in the long run – such as travel agencies. The industry carries multiple risks because customers are often likely to cancel their tickets for various reasons and ask for refunds. In other words, the actual business is likely to fail before even making any profit – a good enough reason for merchants to stay away.
In today's society, many merchants will simply say no to the industry. If they agree to back it up, they will come up with harsh conditions. For example, the service should be delivered over a couple of months, not to mention rolling reserves of up to 25%.
Payout holds are also quite common should you manage to secure a merchant account.
All these little things will add up and can make the collaboration undesirable for everyone.
High ticket price industries​
High ticket price industries do not necessarily refer to actual tickets.
Instead, the ticket is the product or the service. If it is too expensive, the merchant is likely to simply say no because of the risk involved. For example, cars are considered high price tickets. The same goes for industrial machinery and equipment. While such things can make a good profit, their sales will not skyrocket – at least not for a single business though.
Even if your business goes well, you might be selling a car or two a week. But it is a risk. You could sell no cars for a couple of months. You will never be able to manage a constant trend in sales – such as selling one car a day. On the same note, merchants do not have too much control and the business can be quite volatile. If you deal with supercars or other expensive items, sales will be even slower, while refunds for defective products can cause even more trouble in the long run.
Law firms​
Law firms represent a challenge for financial institutions. There are a few reasons behind these risks. First of all,
there will be plenty of rebuttals from all kinds of refunds.
Second of all, even if the financial institution decides to take legal action against the business, it will be difficult because the business representatives have a better knowledge of business laws and legal regulations. Therefore, the risks are simply too high.
Vehicle dealerships​
The auto industry represents another high risk field. It makes no difference how big the dealership is. It could have a couple of cars in stock or dozens of them. The main reason behind the risks involves the actual ticket size. Cars are not cheap at all. Risks are high and sales are relatively low – it is not like you can sell a bunch of cars on a daily basis. From this point of view, a bank would rather work with businesses dealing with low tickets.
Auction services​
The risk related to this industry is fairly simple to understand. The bank will never be able to have a crystal clear image of the business. The product will never be identified. Even if you specialize in a certain field, you will not always be able to guarantee for the value of the item.
There are simply too many unknown variables.
Furthermore, prices vary so widely that banks will always carry a risk with every auction out there.
Construction businesses​
The construction industry used to be extremely profitable and well rated. It can still qualify as a high profit business, but it is not for everyone. These days, unless you are a reputable constructor, chances are your business will be considered high risk. This is because construction companies depend on a few different things and one of them is the payment from the builders. Throw in the real estate volatility too and you will understand why many merchants choose to say no.
ATM services​
Merchants and credit card companies tend to avoid ATM related services for some simple reasons. While the industry is not extremely popular anyway – there are a bunch of big players out there, small businesses will also face rejection because of the nature of the business. Such things carry lots of
cash
.
They represent a target for robbers – both the actual ATMs and the businesses working on them, hence the high risk.
Agricultural services​
There is one major aspect behind the success or failure of this business – the weather. Despite all the predictions scientists make for the next month, the next year or the next decade, they often fail to become reality. Some of them are just way too general to actually be taken in consideration.
Therefore, the industry could be exposed to rains or drought, affecting the results.
A farmer could skyrocket their profits in a year and suffer impressive losses over the next five years. The risk is simply too high.
Religious organizations​
Religious organizations and churches are often avoided by merchants, regardless of their good intentions. There are simply too many negative stories and scandals associated with such accounts. They often involve donation issues or scams, as well as money laundering. Plus, most of them want to keep donations private, so identifying the sources is difficult. Given the potential tax benefits too, banks cannot figure out where money goes, so the risk is pretty high.
Financial firms​
Financial firms can go in more directions and target different domains. From many points of view, such services are rated as high price tickets. In this industry, many accounting firms have to handle large amounts of money and high value transactions. On the other hand, the size of the business can determine the risk as well. For example, services with small services and ticket sizes are more likely to succeed when it comes to choosing a merchant.
Convenience and alcohol stores​
Convenience stores struggle to survive in a world where more and more people shop online. Furthermore, the first test they had to face occurred when supermarkets took over – better prices, more choices and so on. Some stores failed to survive, while others did it. No one can tell how the online environment will affect them though. On the other hand, liquor stores deal with control substances. Whether it is the risk or the association with control substances, merchants are likely to say no.
cryptocurrency-businesses" data-toc="1" >Cryptocurrency businesses​
Cryptocurrencies have faced an incredible growth over the past decade. Many of them have faced a serious boom in 2007, before declining. The end of 2020 has brought in another significant growth – even higher than the first one. The market is not only volatile, but it is also associated with people who try to keep anonymous. Merchants tend to associate these trends with cybercriminals, so they stay away from them.
All in all, other industries that might be considered high risk include:
Jewelry stores
Charity services
Online pharmacies
Dating websites
Whether you run such a business or you have a good plan for one, you probably ask yourself – is there a way to get a merchant account? Can you secure financing without being crushed by harsh terms and conditions that you would never be able to meet? Luckily, there are
high risk payment processing
platforms and institutions out there that can get the job done in no time. So, what are your best options out there and why?
SMG Global​
Headquartered in Utah, USA,
SMG Global
came to life in 2016 as a partner of Payline Data. It has been setup to work with merchants in high risk industries only, as well as those who require an offshore account for their operations abroad. While relatively new on the market when compared to other similar institutions, it has gained an impressive reputation due to catering to its customers' needs in specific industries.
SMG Global mostly deals with businesses rejected by other institutions due to the high risks they carry. For example, it will accept accounts for those operating in adult entertainment, auto parts, cars, collections, coins, metals, electronic cigarettes, extended warranty providers, vacations or herbal supplements, among others. The list goes further and those who get rejected by other merchants can always make a call and determine whether or not SMG Global can cater to their needs.
Like other companies operating with high risk industries, SMG Global will nor provide specific prices, terms and conditions. It is not about the lack of transparency, but each contract and collaboration will be deeply customized. Each contract various on several factors, such as the time in business, history, industry and others. You will, of course, pay higher fees than when compared to businesses in low risk industries.
When it comes to services, you will most likely benefit from a high risk merchant account. This is the exclusive goal of the company. If you are not in a high risk industry, you can find other deals out there. Other than that, it is worth noting that SMG Global works in a tight collaboration with other banks and financial institutions. It sets a bridge between high risk merchants and banks, as it is not a direct processor.
Offshore merchant accounts are also among the options provided, not to mention payment gateways, online shopping cart integration or
mobile processing
. At the same time, ACH (Automated Clearing House) payments are among the top products too, not to mention the chargeback prevention suite – ideal for those with a high risk of chargebacks. As if all these were not enough, SMG Global provides access to business loans through a partnership with Lendio.
One of the best things about SMG Global is the fact
that it provides month to month billing contracts. You can forget about longterm contracts that hook you in for ages – a nightmare to get rid of should your business fail. The arrangement is excellent in terms of flexibility, as you can quit it if you have to, not to mention switching to other providers if you find better deals. Such switches can be made without any fees or penalties.
SMG Global can be easily accessed and provides a straightforward interface that anyone can get used to. There are plenty of educational articles as well. You will understand what high risk onboarding is about, not to mention the differences between a high risk and a low risk account. Contract terms and prices are reasonable, while the customer service is excellent. If there is one thing to complain about, that is the little support for retail businesses.
High Risk Solutions​
High Risk Solutions
is another solid name on the market with an exquisite reputation. It has specialized in providing processing and credit card solutions for any type of business – mostly for high risk industries. The company provides easy access to such facilities without trying to rip customers off – reasonable prices, terms and conditions. Plus, new customers can always get rewards and bonuses, such as random $500 Visa gift cards.
Established in 1995, High Risk Solutions has been through everything – trial and error. The company has had enough time to boost its services to the highest standards and build a great reputation. Its goal is to provide access to something that many merchants fail to get from traditional banking institutions. Its services are straightforward and easy to use – not only will you manage to save time, but you will also save money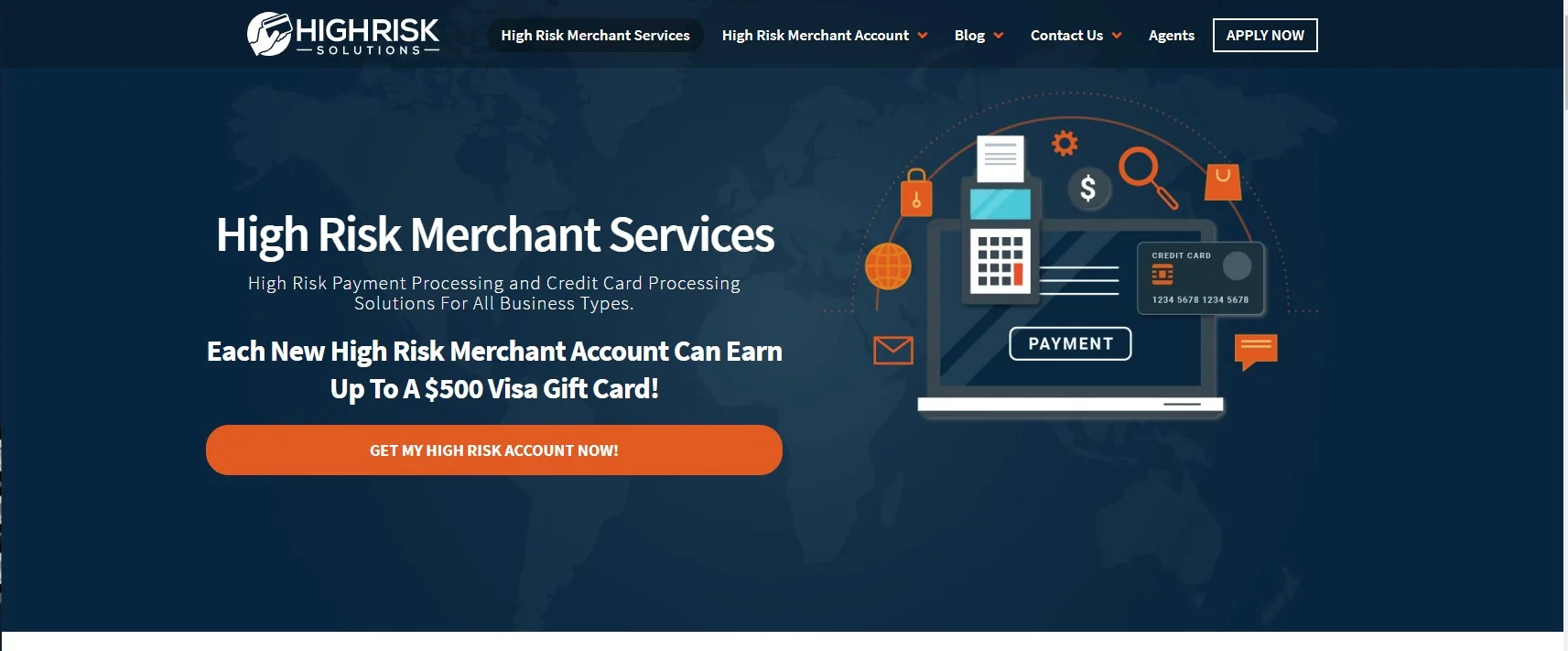 The company provides services to those dealing with auctions, adult entertainment, ammunition, apparel, electronic cigarettes, cryptocurrencies, electronics, insurances, law services, online gaming, pharmaceuticals, auctions, lotteries, multi level marketing, payday loans and so on. Even if your industry is not listed in the most common solutions on the official website, you can always make a call or send an email to inquire about a potential account.
Now, what do you get with an account? Access to a virtual terminal is priceless, while electronic invoicing will help with all your invoicing needs. You will come up with professional invoices with just a few clicks. Third party API integrations are not to be overlooked either, not to mention recurring billing, account updater, website checkout integration, electronic checks, ACH solutions, product management, detailed reporting and fraud prevention.
In terms of currencies and payments, High Risk Solutions accepts EUR, CAD or USD, among many others. Many international currencies are accepted upon the integration. You also have the option to take high risk electronic checks and even cryptocurrencies. As for credit cards, you can accept Visa, Mastercard, Maestro, American Express and so on. PayPal, prepaid credit cards, foreign credit cards, Apple Pay and Samsung Pay are also accepted.
A reserve – also called a hold back
– should be considered too, yet it is lower than in other similar companies. This amount is usually between
5% and 10%
. It is taken out of credit card sales until you meet the monthly volume. It is not mandatory though. Companies with good credit scores and excellent histories can avoid the hold back. It is more common in businesses and companies processing high monthly volumes.
Bottom line, High Risk Solutions provides easy access to an account, while the issues associated with such accounts are limited. You gain access to a wide variety of payment types and solutions. Security measures are not to be overlooked either, with the fraud prevention topping everything up. The customer service will not let you down either. Whether you have questions before signing up or you need ongoing support, there will always be someone to give you a hand in the process.
Instabill​
Established in 2001 in New Hampshire, USA,
Instabill
features more than 12,000 merchant accounts. Given the amount of customers, it could be rated as a small provider. However, the company is specialized in providing access to such accounts to businesses operating in high risk industries. For this category, it has a stable background and provides flexibility and support regardless of your domain of operation.
Instabill has gained notoriety for providing access to easy solutions. In the attempt to find reliable solutions and take payments without exquisite expenses, many merchants end up acting out of desperation. Instabill eliminates this issue. The provider brings in crystal clear fees and plans, as well as low cost operations when compared to most of the competition. Do expect to pay more than if you worked in a low risk industry though.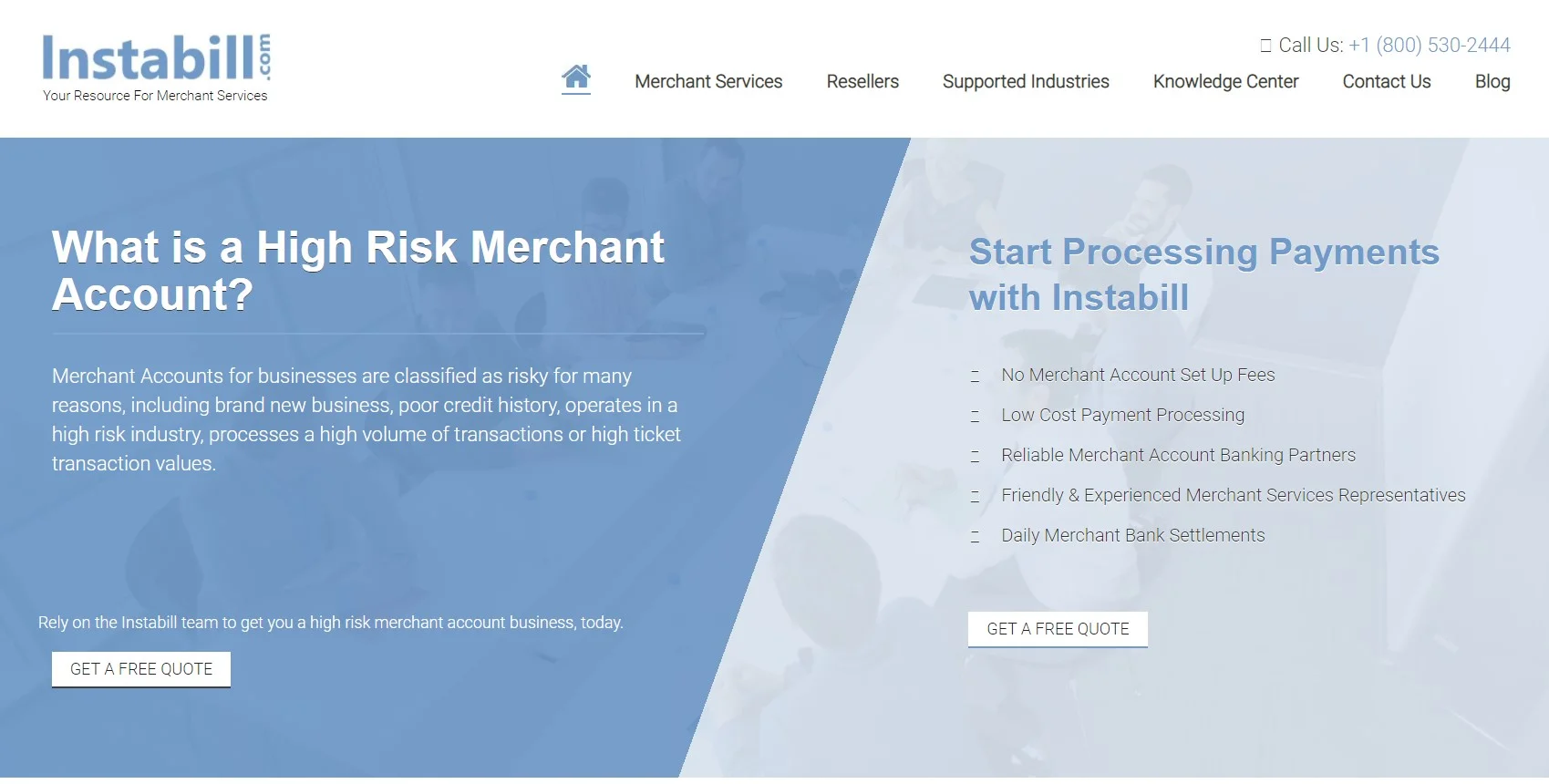 The best part about Instabill is the fact that you have no actual restrictions. You can come up with an account for any type of industry. Even online gambling websites, call centers, auction providers, electronic cigarette dealers and adult entertainers can easily sign up for an account and get a customized plan. Again, prices will not be as good as for businesses in low risk industries, but you are far from the ripoff range too.
Offshore merchant accounts represent a plus. For instance, if you have American customers and your business is not based in the USA, you probably know how challenging it is – overseas processing could be a nightmare. The same rule applies if you deal with multiple currencies. You will also encounter some issues, but Instabill is specialized in such accounts and can help you setup your finances without any obstacles.
Then,
while initially specialized in high risk merchant accounts,
Instabill
also provides access to low risk accounts. Just like you have probably guessed already, the fees and rates are way smaller. But on the same note, this provider is specialized in high risk. Therefore, you might be able to find better rates somewhere else. All in all, Instabill does have this service and it is totally worth a bit of attention – you never know.
Credit card terminals are also offered in various models. They are usually offered through a lease, yet you might be able to purchase your own terminal as well. Although it does not have its own mobile processing service, Instabill is partnered with CardFlight. Furthermore, ACH processing is a built in feature for every merchant account. You can handle transactions over a checking account – less risks in the long run. Rates are affordable too.
Instabill provides access to the factors that might affect the rates. While every account is customized, you will be able to see the potential rates you could face. It is still worth asking for a quote though, as there are different considerations in the process. Instabill is partnered with numerous international banking institutions and each of them has its own rates. At the same time, contract terms, length and early termination fees also depend on the business you have.
Durango Merchant Services​
Durango Merchant Services
operates since 1999. Headquartered in Colorado, USA, it has gained a great reputation for serving the community. From international merchants to those operating in high risk industries, its accounts benefit from quick approval and great fees and rates. If you have ever been rejected by a traditional provider, chances are Durango Merchant Services will cater to your needs in no time.
Fees, rates, terms and conditions depend on more factors, such as the category your business is in. Then, the risk level is also taken in consideration – the higher the risk, the higher the rates too. How long have you been in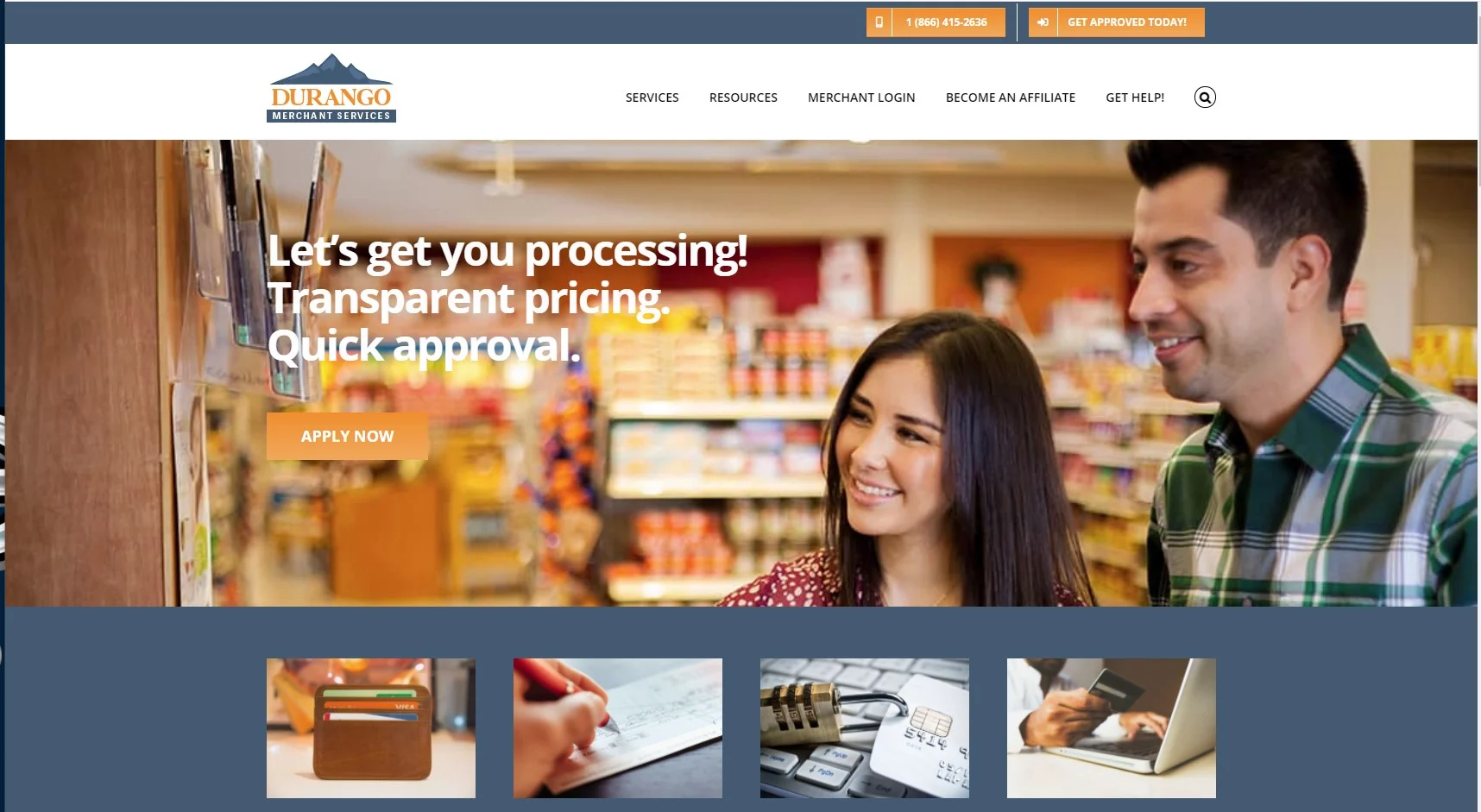 business? What is your
credit score
? How about the processing history? Any of these factors will count, but what really matters is that Durango Merchant Services will treat you with integrity and provide high value for money.
When it comes to products and services,
Durango Merchant Services is specialized in high risk merchant accounts.
But on the same note, the company also has a good reputation for dealing with international merchant accounts. No matter where you want to do business or where you are registered, you have conversion services, multi currency accounts and extra protection against fraud. Such accounts do have some location restrictions too.
Now, rather than having to pay for expensive leases, the provider offers access to all kinds of credit card terminals, mobile card swipers or PIN pads to ensure you handle your customers right. You can explore a wide range of devices available over the official website. Prices are clearly displayed and they usually include the actual setup and the software load installation, so you do not have too much to do – get them, turn them on and start using them. Some models come from Ingenico, Verifone or Hypercom.
Mobile payments are also supported through a partnership with iProcess. The reader will connect over Bluetooth. Online shopping cart integration is also supported, whether you want to use the proprietary cart or choose one of the third party alternatives. ACH processing is part of the game too, not to mention the impressive amount of fraud processing technologies, such as Mastercard SecureCode, Verified by Visa or Fraud Scrubbing, among others.
It is worth mentioning the Durango Pay gateway,
which is developed by the company and features a plethora of options. You have recurring billing, customer information vaults and an emulator that allows switching from various gateways with minimum effort. You have a virtual terminal too. The best part about it? There are no setup fees, but you may need to pay transaction and monthly fees. It is hosted on the Google Cloud Platform, so downtimes are almost nonexistent.
Last, but not least, do not overlook the cryptocurrency support either. Whether you want to accept
Bitcoin
or other cryptocurrencies, the merchant account is ideal. You also get low processing fees, extra fraud protection and protection against chargebacks. Since different businesses carry different levels of risk, prices vary from one customer to another, but they are rated to be good by current customers. There is no setup fee, which is a plus. Contract terms vary based on the bank you are paired with.
Cool Pay​
Cool Pay
is certainly among the leading payment processors to consider if you run a business in a high risk industry. The company was initially aimed at the Northern European market – such as
Denmark
. With time, it has become a solid option for those operating in high risk industries, regardless of their location. Based on the company's motto, you can let your customers pay as they wish due to the successful integration of over 25
payment solutions
.
Cool Pay has been described as a complete solution for all your business needs. It provides both card and gateway payments. You can get started within minutes only and benefit yourself from the variety of choices – not just your customers. To make things even easier, Cool Pay provides cheaper rates and fees than most of its competition – it can easily compete against platforms with a higher reputation and more time on the market.
Apart from supporting card and bank payments, Cool Pay goes even further and integrates dozens of other payment platforms too. For example, you can take payments over PayPal, as well as MobilePay, Swish, Trustly,
Klarna
or Apple Pay, among many others. It is pointless to say that Visa and Mastercard cards are accepted too, as well as cards from less popular providers. No matter what your customer needs, you will have the optimal solution for them.
Cool Pay is currently dealing with businesses from all kinds of industry.
While not its initial goal, the company has become a primary solution for those in high risk industries. You can sign up and integrate Cool Pay if you deal with gambling, adult entertainment, auctions, car sales, pharmaceuticals, electronic cigarettes and so on. No matter what your business is about, it is always worth contacting the customer service for a quote.
Most payment processors in this field will struggle to provide crystal clear fees and rates because there are more factors involved. Unless you are facing a month to month contract, your rates will be unique. Cool Pay makes no exception either. Rates will vary based on your type of business, history, credit score and so on. Based on reviews and the reputation of this processor, chances are you will face relatively low and acceptable fees.
The customer service is friendly and knowledgeable. You will not be sold a certain product out of nowhere. Instead, the representative will most likely take their time to discuss what you do and make a solid recommendation to match your needs. It is a fully individualized service that will not let you down. The integration is also simple and the customer support is always there to give you a hand – pretty much everything is straightforward though.
If there is one thing you could complain about, that is the fact that Cool Pay was not originally aimed at the international market. Therefore, getting along with the website is a bit challenging. However, you can always reach to the contact page and drop an email or make a call. Someone will reply to your questions in English, so you can carry on with the conversation in an understandable way. Sooner or later, Cool Pay will probably get an English version as well.
Multiple options equal multiple challenges​
At this point, a high risk industry is scary enough. The good news is you do have options, but there are too many of them – the lack of attention could get you ripped off
. What do you do next?
This is when OffShoreCorpTalk kicks in.
The reputable forum will give you specific details on even more payment processors – including processors that work for specific types of businesses and industries only, based on their specialization.
The discussion board is aimed at offshore applications and everything related to them, from lowering taxes and choosing a jurisdiction to choosing an accountant and
finding a payment processor
. It also helps users how to
stay anonymous
and keep their operations private from governments, not to mention seeking advice and reading others' stories on how they have managed to bypass various restrictions in their businesses.
Available over https://www.offshorecorptalk.com/resources/, the resource discussion board provides access to
recommendations and suggestions from current users. Whether you are after a
payment processor
or a broker, you can easily source an account for your business. The
Mentor Group Gold
will provide access to professionals in this industry, as well as one by one training based on your unique necessities – definitely worth a try.
The issues associated with high risk businesses and industries​
Many business owners have no clue about the high risk status they carry. They realize they have a problem when they have to find a credit card merchant account or a payment processor. They face one rejection after another and they end up having to accept exquisite rates and fees for the actual service. Obviously, there are a few reputable names out there that aim to keep the terms and prices fair and desirable – such as the above mentioned payment processors.
Now, why do credit card processors actually care? Most of the money associated with your business will go through one of these processors. Most of them want to keep a clean reputation, so they refuse dealing with businesses carrying baggage. Baggage comes in more forms though – fraud is one of them. Then, chargebacks also represent a big question mark. Simply put, payment processors do not find it worth the aggravation.
How do you know you are high risk? You do not want to wait until you need a payment processor. You do not want to feel pressured into accepting abusive terms and conditions, so assess your situation early. As a general rule of thumb, the above mentioned industries will classify as high risk for different reasons. Other than that, there are two general considerations that could help you determine what kind of status you have.
If you operate within a high risk industry, you have a high risk business. To help you understand, you run a firearm store. While your actual store is completely legit, the consequences of selling firearms to the wrong people (even if they provide the legal documentation) could reflect over your business. On the same note, these consequences will also affect the payment processor behind your business, so their reputation will be affected too.
When it comes to chargebacks, understanding this concept is a bit more difficult. An industry with a high amount of chargebacks is considered risky and many payment processors want to stay away from it. Are you in the electronic cigarette industry? You might be aware of the numerous chargebacks that would make your business risky from a financial point of view. Plus, even small businesses could be considered risky if their processing revenue is too small.
Choosing the right jurisdiction​
While not an official thing, many locations in the world are also considered high risk due to their volatile markets, unstable governments or poor
economics
. No payment processor will ever mention it because it is a discriminatory factor, yet it exists. At the same time, other areas are well seen due to their stability and they could reduce the risk factor associated with your business or industry – meaning you will find it easier to deal with the right payment processor.
Incorporating in a tax heaven (as well as it is a reputable country with a strong economy) will definitely help. The European Union makes a good choice, but other European countries could be even better. For instance, the UK is a great opportunity to reduce your risk. Cyprus and Malta also benefit from a great reputation due to their tax heaven profiles – great to keep your taxes low as well. You can go outside of Europe though, but stick to proven locations – the
British Virgin Islands
or Delaware in the USA.
emi-becomes-obvious" data-toc="1" >When the necessity of an EMI becomes obvious​
Getting your money involves using an electronic money institution (EMI). This trend is relatively new on the market and it tends to focus on remote services – just what you need. It works with mobile applications and underlines simple services to ensure your money is not lost in random accounts. Most of them operate on specific regulations to boost the competition in banking. They rarely hold banking licenses, so some of them may rely on third party licenses.
There are more options out there – research their features and rates to choose the most suitable one.
Transferwise
is one of the leading names on the market. Trusted by more than seven million customers, it is well rated for its low fees and rates. The EMI is often referred to as the Robin Hood of the money transfer industry, especially when dealing with different currencies – it relies on the true mid market exchange rate.
SafeCharge
is not to be overlooked either. It brings in various payment services and advanced technologies to ensure safe and secure transfers. It is well rated all over the world and can be used in most jurisdictions with no issues whatsoever. The same rule applies to
Bankera
,
which is one of the oldest EMIs out there. When choosing services for your operations, you need to ensure they are compatible, hence the necessity of research – this is when
OffShoreCorpTalk
might come in handy.
As a short final conclusion

​

Payment processors could be a challenge for many industries and businesses today, but they are not. It all depends on when you seek help. Plan this venture early, educate yourself, seek advice and learn from others if you want to prevent mistakes and unexpected situations. On the other hand, you can also wait until you are pressured, but chances are your rates and fees will not be the best.
Last edited: