The true power of OffshoreCorpTalk lies in our exclusive Mentor Group Gold. When you sign up for Mentor Group Gold, you will receive a wide variety of special privileges as well as the coveted Gold Badge on your profile. Let's go over just a few of the perks you can enjoy with Mentor Group Gold.
Intensive Instruction and Aid
You will get access to some of the best information provided by top industry insiders and will learn important techniques to safeguard your privacy. Plus, access to hidden, exclusive forums will allow you to interact with other Gold-level members and trade tips that can prove crucial to your business and banking needs.
Database of Service Providers
We have assembled an extensive database full of service providers like banking institutions, tax consultancies, payment services, and company formation services. When you sign up for Mentor Group Gold, you have access to all of these high-end providers. In addition, you will receive discounts on select services that are only accessible to clients with Mentor Group Gold status.
Chat Rooms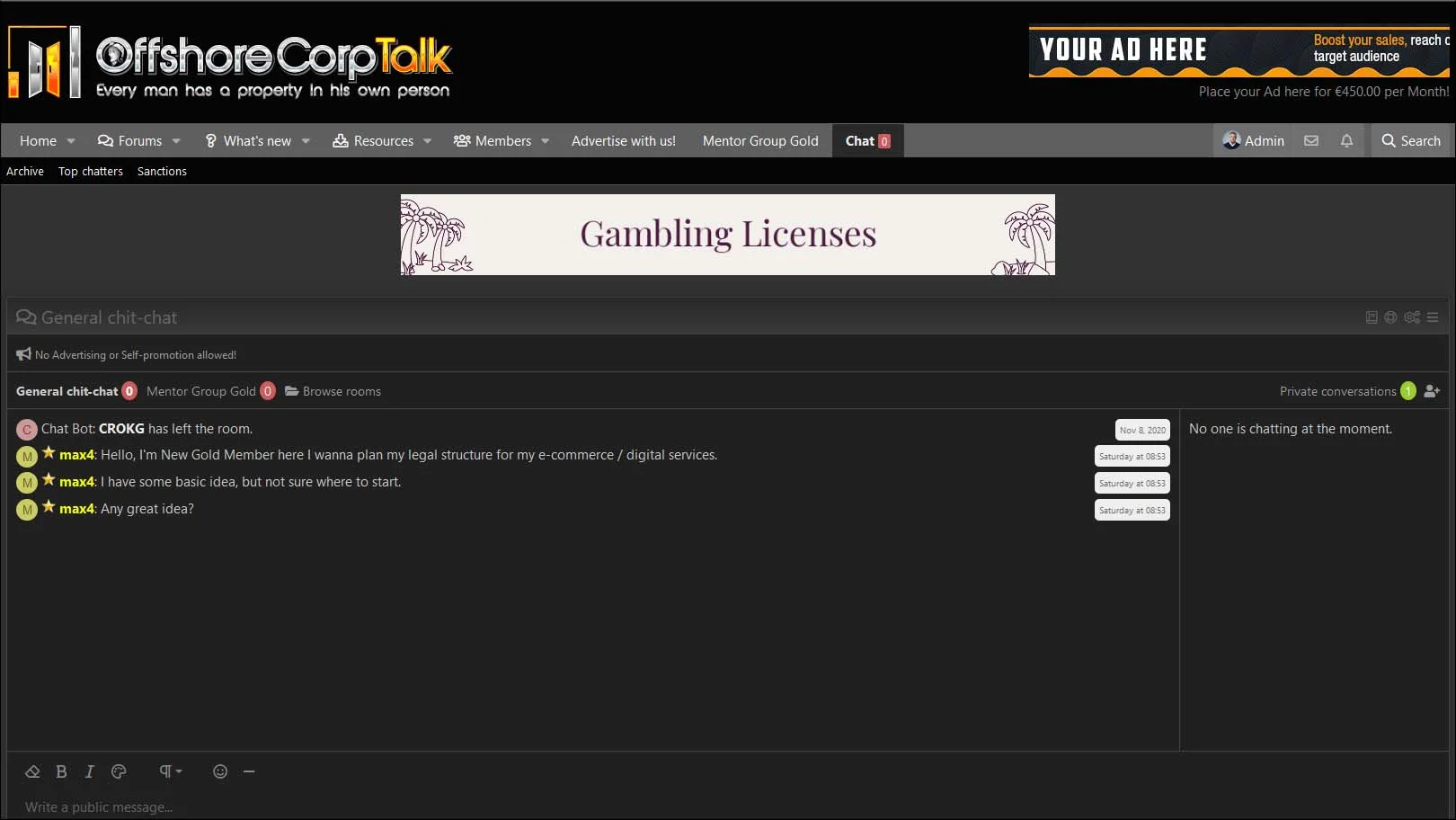 Live chat rooms for all Mentor Group Gold members with private rooms & public rooms for all Mentor Group Gold members only. Live chat directly with forum members in private rooms with anything you have on your mind. This is a unique opportunity to get closer to your business relation and get faster replies and answers but still stay 100% anonymous.
Advertising
As a badge-holder with Mentor Group Gold, you will be able to have a personalized signature on each thread or post you create. The signature will link to your company's website, and you are allowed to advertise your services via this signature. Not only do you get all the perks associated with top-tier membership, but you can use this opportunity to grow your business through advertising.
How Much Can I Save With Mentor Group Gold?
Mentor Group Gold membership is our premium offer, and it affords you tremendous benefits across the board. These benefits include prestige, access to special offers from providers, discounts on services, and even entry into exclusive forums with other like-minded business leaders from across the world. With all these positives, you'd be forgiven for thinking that membership in Mentor Group Gold is economically unfeasible. But nothing could be farther from the truth.
Membership Pays For Itself
Perhaps the most striking element of Mentor Group Gold is that membership virtually pays for itself. All businesses require certain services from providers, but members of our special group can access top-tier providers at extremely discounted prices. Some of the providers in our network reduce their costs for Mentor Group Gold members by as much as 20%! This means that you save up to €200 when you purchase €1,000 in services. Since Mentor Group Gold only costs €95, this is akin to getting your membership for free while pocketing €105! That is a deal you won't find anywhere else.
Saving Isn't the Only Benefit
Saving money is always a crucial consideration for a business owner like yourself. But it isn't the only factor or reason that you should obtain membership in our Mentor Group Gold. You save, yes, but you also get access to providers who exclusively work with the elite business owners in Mentor Group Gold. This is a win-win situation, with you gaining access to high-level service providers at incredible discounts.

If you are serious about expanding your business acumen, growing your portfolio, learning new business techniques and offshore banking strategies, purchase your Mentor Group Gold membership today. You'll be surprised how your business will grow and your expenses will shrink.

OffshoreCorpTalk can help you with all your company formation, business privacy, and banking questions. To get the full power of the OffshoreCorpTalk experience, sign up for Mentor Group Gold today!
UPDATE Nov. 2020

​Becoming a Mentor Group Gold member

separates you from the million of business owners.

An all-in-one resource

for the serious businessperson, our group provides you with many benefits that quickly earn back the cost of membership. In fact, a single discount on providers' services can more than pay for the cost of becoming a Mentor Group Gold member. Let's take a look at the opportunities that make Mentor Group Gold a crucial choice for anyone starting a company, opening a bank account, or seeking a

payment gateway

.

Guides for the Mentor Group Gold members

Since December 2020 we have collected some of the most interesting information from the mentor group forums and turned them into articles and guides for an easier understanding and an extra service to our Mentor Group Gold members.

This part of the forum is updated on a regular basis or as soon as we have information sufficient to create a new guide.

Most, if not all, of the information provided in the guides is about services, information and tools which are never published on the public forums. We frequently move threads from the public forums into the Mentor Group Gold for various reasons.
An Extensive Database With Discounts
Members of Mentor Group Gold have access to an exclusive database full of high-level service providers,
crypto
-currency exchanges,
payment gateway
services, and
electronic money
institutions.
Currently, we have 210 of these service providers available
to all Mentor Group Gold members, with more partnerships planned for the near future. Even better, many of our partners provide valuable discounts that can save you more than the cost of membership. We have five providers that currently go so far as to provide a minimum discount of 10% to all our members.
Not only do Mentor Group Gold members enjoy access to the choicest of service providers in our database, but OffshoreCorpsTalk is always looking to improve your experience. We offer consistent updates based on user feedback, including streamlining our RESOURCE page layout to give you a better, ultra-fast view of the services on offer.
You don't want to miss out on all the benefits you get as a Mentor Group Gold member. As we strive for excellence, no doubt our available services will grow. Currently, you can enjoy an array of benefits like: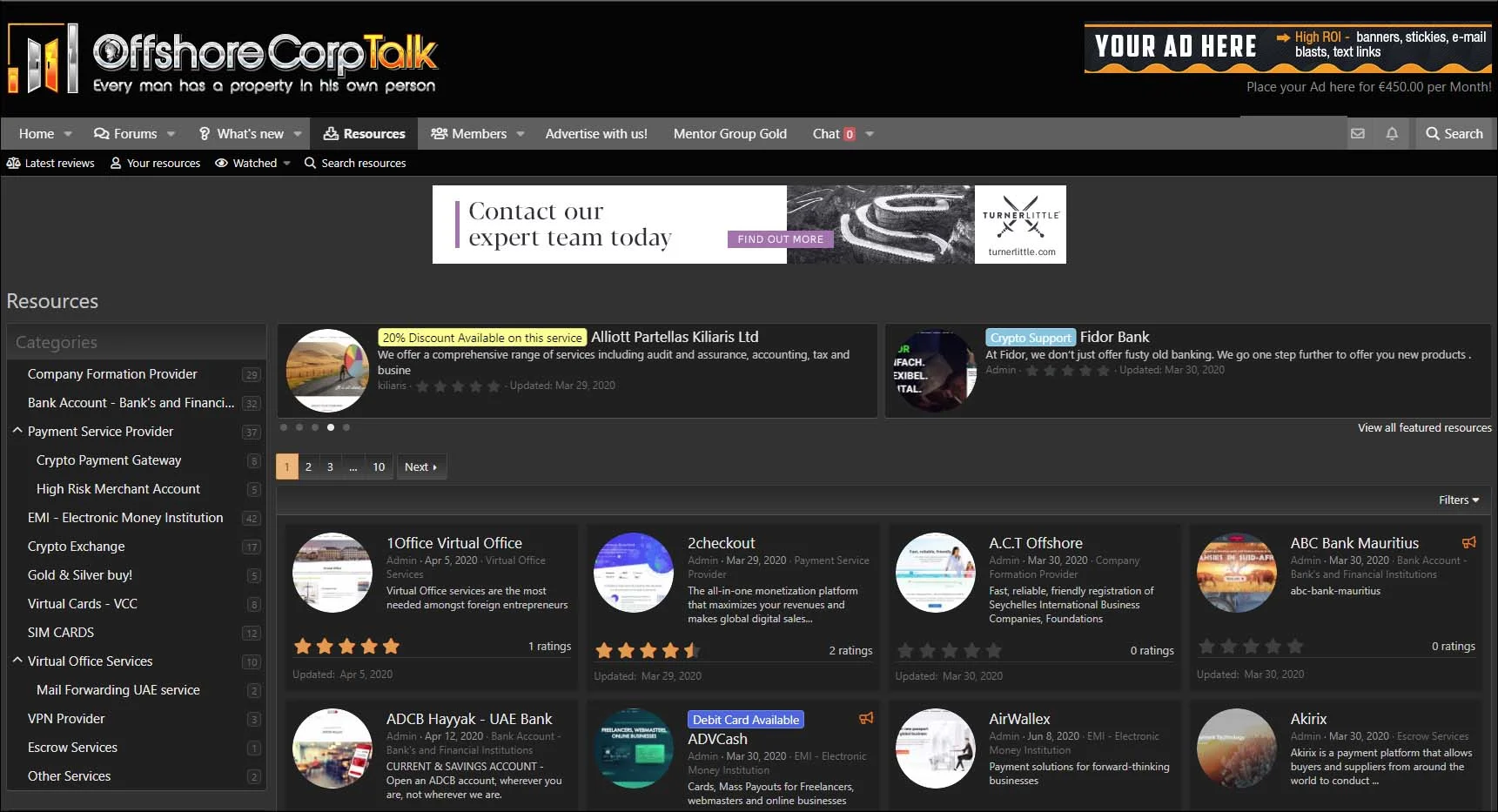 Company formation assistance
Banking and financial services
Payment service providers (credit card processors)
High Risk Merchant Account - Payment Gateways
Gold & Silver Buy!
Virtual Cards - VCC
Escrow Services
SIM card providers - Texting/SMS services
Virtual Office services
VPN Providers
Many more categories.
Last edited: