Go down the road and ask someone about offshore banking or wealth management – their minds will inevitably go to Switzerland. Whether it comes to movies, scandals or just plain facts, there are no doubts about it – Switzerland is seen as the international banking capital out there. Some of the world's best rated banks are based in Switzerland, while the plethora of advantages will most likely attract even more people in the future.
However, things have obviously changed over the past decade and there are more reasons behind these updates. The way people bank has also changed, which has inevitably affected the banking system. Then, those interested in
offshore banking
have also contributed to these changes, not to mention government regulations and
privacy
policies. All in all, this guide will tell you everything you need to know when it comes to opening and running a
Swiss bank
account.
A brief history of Swiss banks​
Swiss banks have gained notoriety over the past century, but their popularity skyrocketed during the Cold War. Interested in stashing an impressive quantity of gold for a plot? Look at Swiss banks. Trying to hide loads of money from your Soviet government? Go for a Swiss bank. Hiding away some passports for an emergency situation? Turn to a Swiss bank.
Obviously, you cannot trust everything you see in movies these days. Many facts are exaggerated, but there is some truth behind the initial facts. Simply put, Swiss banks used to be the main institutions to turn to if you were after banking privacy and secrecy – regardless of your reasons. Obviously, most of the assumptions are easy to understand.
Before World War I, Swiss banks provided full privacy. Practically, you could walk in a bank, open an account and access it without anyone bothering you. Funds and private details were kept under an account number. It was fully anonymous, so no government could actually track anything at all. Entrepreneurs in the beginning of the 20th century loved this alternative.
The system became even more appreciated all across the world, as more and more countries started introducing the
income tax
. The USA introduced this tax in 1913, after a few other western countries. For an entrepreneur, hiding money in a Swiss bank was the best way to overcome the income tax that hit everyone with no mercy.
Income taxation gained more and more popularity after the war ended. More countries adopted this tax in order to recover. During the 1920s and the 1930s, the income tax was common in pretty much every civilized country. Swiss banks kept refusing to help governments track down
tax evasion
, which added to their popularity.
Things started changing in 1932, when France decided to make a move against the Swiss banking system. The local government decided to raid a Swiss bank based in France – every Swiss bank account was checked in the process. The authorities discovered that the Swiss bank had an efficient system to help local wealthy people hide their money – over 1,000 clients managed to evade tax and fees.
The raid was not aiming for a certain Swiss bank account. It was not about the people trying to hide their money. Instead, it was a political move. Its primary role was to distract the population from a government that failed in pretty much everything it did. However, it was also a crystal clear warning issued to Swiss banks.
Switzerland took it seriously and worked on its privacy considerations. Transparency was successfully increased, but it was still far from what France had in mind. Sure, every Swiss bank account was a bit more transparent. As banks started losing popularity, a new law kicked in. In 1934, Switzerland made it illegal for banks to disclose customers' identities to foreign governments.
As World War II reached to an end, more and more banks tried to attract foreign
investments
. They changed their policies and added to their privacy standards. The Swiss banking principle became a role model for other banking institutions across the world. However, no one has managed to do it better than the Swiss.
A few words about modern Swiss banks, FATCA and banking secrecy
After years of successfully facing pressure from foreign governments, Swiss banks slowly gave in to demands for some extra privacy. The USA was one of the main countries fighting against this privacy. For instance, Wegelin & Co was closed after more than 300 years of business. It did not break any Swiss laws, but the American government claimed millions in fees and fines, so the bank was forced to go.
The American government created FATCA, a compliance act that forces banks from other parts of the world to report their American customers if they want to operate on American soil. FACTA has been around for over 10 years. Other countries kicked in too and established
CRS
.
While FATCA was initially created to prevent tax evasion, crime and terrorism, many Swiss banks have simply decided to stop working with American citizens and residents. Prior to this act, people had to report their own accounts. Now, banks will do it as well.
Modern banking secrecy is no longer a big thing when you open a Swiss bank account. Sure, you can still get some secrecy in various financial paradises – especially those systems established outside the USA and Europe. Instead of bank secrecy, people open Swiss accounts to diversify their assets, gain some protection, hold other currencies and reach various types of investments.
These days, Swiss banks are extremely well regulated – both on an internal level and an external one. There is also lots of bureaucracy associated with the Swiss banking system – hence the wide variety of professionals and businesses helping you set a Swiss bank account.
Swiss banks are more than just secrecy. They are easy to deal with and they provide a bit of protection. In some post-Soviet countries or countries from South America, bank secrecy is about avoiding the attention of the wrong individuals. Banks are not allowed to provide full information, but specific details only. Secrecy is still there, but you are not 100% anonymous.
Imagine running a business in
Mexico
. Bankers will often provide info on large accounts to cartels. Cartels will then pick their targets and shake them down for great profits. Sure, this is not always the case, but unwanted attention could cause lots of problems. Political pressure may also occur in some countries.
While a bank is required to provide information about your Swiss bank account, policies are strict regarding the information third parties can get. Your information is still private and you have a good protection against corruption and crime.
Introduction to banking in Switzerland​
Switzerland is a prosperous country in Europe. It is quite advanced from all points of view, but especially economically. In terms of
GDP
, it has one of the highest rated in the world. At the same time, it has managed to become the largest offshore center out there and it benefits from a good reputation in terms of
asset protection
, stability and secrecy. While it does have some good competition from other tax havens, it is the top option these days due to becoming a banking model over the past century.
People – including foreigners – can easily gain access to a Swiss bank account without too much headache. There are all kinds of banking services you can take advantage of and they come from both cantonal and national banking institutions. When it comes to national banks, you have solid and reputable names like UBS, Raiffeisen or Credit Suisse, among others.
Cantonal banks are a bit more specific. Practically, they are more suitable to residents of particular cantons only. In fact, almost every canton in Switzerland has its own bank. In other words, if you move from one canton to another, you will most likely need to transfer your Swiss bank account as well.
Then, there are some extra banking solutions given by investment and private banks. However, most of these options are usually accessible to those with great wealth, so they are not so suitable for everyday banking needs.
All in all, it is worth noting that all banks in Switzerland are regulated by the FINMA – Financial Market Supervisory Authority.
Now, you probably ask yourself – do you need a Swiss bank account? It depends on your situation. As a foreigner, a Swiss bank account is great for offshore banking – extra privacy, lower taxes, asset diversification, political security and so on. Choosing to move there almost always implies using a Swiss bank account.
You will need a Swiss bank account for all kinds of activities and payments. For instance, you may need it to figure out your housing needs, not to mention paying bills or buying stuff. Sure, most shops will take credit and debit cards – no problems. But then, you would need to pay with a foreign card, meaning you will pay in another currency or face exchange fees – such things can become pricey in no time. The same rule applies if you need
cash
from a local ATM.
The good news is you do not necessarily have to come to Switzerland in order to open a Swiss bank account – you can do it abroad too. However, you will need some documentation, self information from your current bank and perhaps some notarized files – they might get expensive. From this point of view, it is easier to begin your application over the Internet and provide the required documents once in the country.
Simply put, you do need a Swiss bank account, whether you want to move to Switzerland or you want to start offshore banking. Now, what kind of Swiss bank account do you really need?
Types of bank accounts available in Switzerland
Just like in any other country, there are more types of bank accounts you can get in Switzerland. Each of them has its own specifications and particularities. Moreover, choosing the right Swiss bank account depends on what you need it for.
Current and joint accounts
A current account is classic. It is similar to the current account you may have from your current bank now. You can use this account for everyday banking activities – salary, wages, bills, savings and so on. You can also use it for all kinds of investments, s well as shopping. Most of them allow you to withdraw money from local ATMs as well, whether you are after euros or Swiss francs. Keep in mind that not every Swiss bank account provides both options though.
Unlike other countries, Swiss banks do not provide too many options for free accounts. National banks, for example, may charge about CHF 5 per month if you own a standard account. If you want to go premium and enjoy some extra benefits, you will probably end up paying about CHF 15. Again, make sure you choose the right account based on your personal needs.
You might be familiar with this rule already, but you should stick to your bank's ATMs when withdrawing cash. This is not always the case if you face an emergency. You do not feel like driving a couple of miles to reach the nearest ATM. If you use another bank's ATM, you will most likely have to pay a processing fee.
It is important to know that some banks in Switzerland will reduce your fees if you have a fat saving account linked to your current one, but also if you have a mortgage with the respective institutions.
Banking services are extremely diversified and provide access to anything you can think of. You can get a basic current account, as well as credit cards, savings accounts and so on. Fees vary from one account to another.
Most local banks will also provide joint account. Again, options are quite varied – one off or perhaps all inclusive basis. A joint account works just like in any other country. Both parties will get a different card and they can access all the funds in the account.
Investment and savings accounts
Savings accounts are self explanatory. They allow you to save money. You can do it on a regular basis – throw some money in your account when you get your wages or sell something. You can also transfer a large chunk of money – a simple one off operation.
Opening a saving account is usually free and simple. However, it may come with some restrictions – make sure you pay attention to all the terms and conditions. The account may come with a fixed period to prevent immediate withdrawals. You might be allowed a few withdrawals, but they are limited. If you break these rules, chances are you will need to pay some fees.
While not always a general rule, savings and investment accounts could come with administration fees.
Numbered accounts
Numbered accounts are not for everyone. They provide more privacy and they are quite secret – obviously, with some limits. They are referred to as numbered accounts because they are associated with a number, rather than a name.
This type of account is great if you want to protect your assets and gain some extra privacy. However, the extra benefits obviously bring in some taxes too. Fees can vary widely from one bank to another – in some cases, they may go up to CHF 2,000 per year.
Your numbered bank account may also come with some limitations. For instance, not all accounts allow international payments, so you could be stuck there. Then, large payments and transactions could be monitored in an attempt to prevent money laundering.
How to open a Swiss bank account​
You do not necessarily have to be a local to open and use a Swiss bank account. Swiss banks have gained notoriety for being expat friendly, after all. At some point, they were more popular among foreigners than for locals. Now, how do you open a Swiss bank account? What kind of options do you have?
The easiest way to do it involves going into a branch in person. Once you provide all the details and documentation, the opening procedure may take about a week. In some cases, it may take up to a month for the account to become active – not always a general rule though.
Unlike other countries – like the UK, you will not necessarily need an appointment to open a bank account. Sure, you can call upfront and make sure you do not waste your time. Whether you opt for a
debit or credit card
, it should be in your mail after a week.
While it does not always work, you can open a Swiss bank account from abroad too – in person. If the bank of your choice has international branches, find a local branch and get there. This is not a general rule though. Some international banks only operate locally – the countries they run in. You can ask though. Such applications may take more than just a week or two though.
How to open a Swiss bank account from abroad​
You can open a Swiss bank account before actually getting there, only to ensure everything is set and ready for when you move. However, this process can be more time consuming. Besides, get ready to be asked for lots of paperwork, translations and notarized documents. The good news is that many Swiss banks have fully functional websites – you can reach to their websites and change the language to English in case your location is not automatically detected. You can explore your options online, but also request an application pack.
When opening a Swiss bank account from abroad, it pays off choosing a bank that runs local branches in your country too. You could go there in person, but you could also find a less labor intensive procedure. At the same time, it might be easier to choose a bank that has a good relationship with a local provider.
Overseas applicants will be required to bring more documentation. Most importantly, you will need to provide an ID – ideally, a passport. You might require a residency card as well, not to mention proof of address. Your personal history is also important – plus, never overlook the employment history, which may require extra papers.
Documents provided require authentication. In other words, you have to translate them or at least get notarized copies. Apostille stamps could be required as well. In such cases, you might need to visit notaries or banks in person.
Mobile banking solutions in Switzerland
Mobile banking is the optimal solution for millions of people – not just in Switzerland, but all over the world. Basically, you have full control over your finances and you can make transactions over your mobile phone with no issues at all. Since the Swiss dominate the banking industry, they are just as good at online banking services – literally every feature out there is perfect.
Both national and cantonal banks in Switzerland provide web based banking solutions – available through browsers and Internet connected devices, from laptops to smartphones. Many of them have their own mobile applications as well.
In fact, you might want to know that the recent years have brought in a bunch of challenger banks too. These banks do not have physical branches, so everything you do is conducted over the Internet. They are run through smartphones exclusively.
Just like anywhere else in the world, Swiss banking applications are not always ideal. You may not have all the features you get when you visit a bank in person. But then, compared to other European banks, they outweigh them in terms of overall functionality. Challenger banks dominate this segment, but they cannot compare to traditional banks when it comes to their features and functions.
Corporate accounts in Switzerland
Interested in establishing a business in Switzerland? Thinking about running a branch of your overseas business in Switzerland? How about transferring all your finances in the Swiss banking system? For any of these situations – as well as anything that involves business operations, you might need a corporate Swiss bank account.
A corporate business account is a bit different from a personal account and obviously comes with more paperwork and documentation. While you can open a current account over the Internet or by post, a corporate account will usually require you in person. You might have to attend a meeting in a branch or at least come up with a video conference before the account is opened.
Documentation is more comprehensive. If you only need personal details for a current bank account, you will need both personal and business details for a corporate alternative. For example, you have to be able to identify yourself, but business registration information is also required. Simply put, the process does not take place overnight, but it may take a few good weeks. The good news is that many Swiss banks dodge administration fees and taxes for a specific period of time – usually about a year – in order to attract more customers.
Some banks allow opening corporate accounts while abroad too, but most of them will require to see you in person.
Accounts for children
Interested in a Swiss bank account for your children? Your reasons are irrelevant. Perhaps savings accounts for kids get taxed in your country of residence or you hope your little ones will grow in a more civilized country like Switzerland. From this point of view, you can come up with a Swiss bank account for your children – usually savings accounts. Parents can also earn some interest on these deposits.
A youth account will be opened in a child's name. However, the child does not really have access to it. Instead, parents are responsible for the respective account until the child reaches the legal age. The interest varies widely from one bank or account to another. Moreover, interest rates are usually capped – most commonly, you can get up to CHF 20,000.
At the same time, gift savings accounts can also be opened by random family members and not necessarily by parents only – grandparents can also surprise their loved ones by looking after their future.
Gift investment accounts are just as diversified and quite common – double check upfront, as not all providers can offer such features. How do they work? Simple – your savings can be invested in an actual fund. Now, the final outcome could go in two different directions. If the fund does above average, you will end up making some
decent returns
on the investment. But if the fund does not perform very well, you will lose money in the long run.
Moreover, most of these opportunities come with some fees – double check the investment fund fees associated with the account upfront.
How to choose the right Swiss bank account for your needs?​
There is no such thing as the best Swiss bank account because what works for some people will not work for everyone else. No matter what you are after, you have to take your time in order to figure out what truly works for you. You must compare options. If nothing looks suitable for you, wait some more – new offers and account types pop up on a regular basis. Moreover, some banks allow a deeper customization of your account.
Fees and charges – Fees vary between banks and accounts. If you tend to spend more than what you have in the account, choose a bank with a good overdraft with no fees or interest rates.
Interest rates – If you are careful and you avoid going overdrawn, get the account with a high interest on your balance.
Incentives – Small details often make the difference, so look for deals, as well as the strings attached to them. Ignore the short term offer and consider the longterm results.
Customer service – Figure out the customer service during the initial steps. You can also seek reviews over the Internet. Opt for quick replies and efficient responses, as well as a good approach towards complaints.
Dealing with the bank – How do you want to deal with the bank? You could do it in person, over the telephone, over the Internet, ATMs or by post.
It might be difficult to find the perfect bank, especially if your needs are extremely specific. However, you need to find a bank that offers the best blend of functions, features and services. On another note, almost every Swiss bank account comes with low cost maintenance and expat friendly services.
Considering international money transfers in Switzerland
International money transfers in Switzerland are almost never free. It makes no difference what type of Swiss bank account you have or what banking institution you go with. Sometimes, you may have to pay a single fee, which is usually charged by the bank sending the payment. These fees vary, but they will usually go between CHF 5 and CHF 20.
Other times, you may need to pay two fees. Sometimes, the receiving bank may also charge a fee. This is less likely to happen, but there are a few banks out there that come with such fees.
In general, Swiss banks will charge a fixed rate for international money transfers. This is good news if you deal with large amounts of money. However, when it comes to small amounts, a Swiss bank may not always be the most profitable idea. Instead, you might want to consider money unions and there are lots of options there.
Keep in mind that some Swiss banks do not send money to particular countries. For example, funds sent to
Somalia
will most likely raise a few question marks.
Exploring the banking services in Switzerland​
Banking services in Switzerland are quite diversified and will easily cover everything your current bank has – plus a few extras. It is said the Swiss are better than everyone else at banking and the services you gain access to make it obvious.
When it comes to borrowing options, you have numerous solutions. You can get all kinds of credit cards, as well as
loans
for anything. You can also opt for mortgages should you establish yourself in Switzerland. Loans and mortgages have varying rates. As a general rule of thumb, try to use the same provider for everyday banking – such as bills or shopping – and you are likely to get better rates.
Credit cards are almost never free. They feature annual maintenance fees and they vary from one provider to another. The most expensive providers charge about CHF 30 per year.
Credit cards are also a bit more difficult to get by new users. It helps if you have a current account though. You should make a few deposits – more than the monthly credit limit you want – to your current account to convince the bank. The money is not lost though, but invested – you will most likely get interest on it. Simply put, banks need to know you a little before giving you money and they need to know that you are responsible.
Offshore accounts in Switzerland
Foreigners living in Switzerland will most likely benefit from an offshore account, whether it comes to business operations or just managing their finances. An offshore account is basically an account overseas – located outside the residence country.
Given the different banking system, it comes with a bunch of advantages too. For example, you might get a lower tax on your funds, some extra privacy, asset diversification or more cross border functions and features.
Offshore accounts are not suitable for those who want to diversify their assets only, but also for those who work abroad, spend lots of time in other countries and make international bank transfers.
Managing, using and closing a Swiss bank account
While each bank has its own particularities, almost every Swiss bank account will come with a few standard options in terms of management. Most commonly, almost every account can be managed in person – unless you opt for a challenger bank. Then, you can do it over the phone, as well as over the Internet. Not every bank may have an application, but almost every bank account can be managed through an online platform.
If you opt for personal management, most banks will have staff members who can speak excellent English – especially in large cities. Banks are usually open between 9AM and 5PM, Monday to Friday, yet some of them may have a break around lunchtime.
Lots of people choose to do it over the Internet these days. As for emergency situations – such as losing your card or noticing some fraudulent transactions on your statement, each bank will have an emergency phone number that is available round the clock.
Large banks in Switzerland will allow you to change your account or the bank should you find better deals somewhere else. Making the switch is fairly simple because you only have to get in touch with one bank only, rather than two – the new bank. You will probably have to complete a form and mention some details about yourself. The procedure is similar to the one involving a new Swiss bank account – you will also have to provide details regarding your current account. Once the form is done, your new bank will correspond with your current one and make the switch.
Such a switch is relatively easy and fast to complete. Besides, many banks provide various incentives to customers who switch, only to increase their customer databases.
Closing a Swiss bank account is just as simple – much easier than opening one. You simply need to get in touch with your bank. Make sure there are no outstanding fees – if you have something to pay, the bank will not close your account until you actually do it. If you have already opened a new account somewhere else, you should be able to transfer assets directly. If not, you should withdraw everything.
It is worth noting that some banks will refuse to close your account until you cancel standing orders and direct debits yourself.
Safety standards in Swiss banks​
Switzerland is a front runner in the banking system, but definitely not the universal solution to offshore banking. While there is great competition out there, Switzerland is still a viable option for lots of people out there. In terms of safety, it is one of the safest options – along with
Germany
and the Netherlands, if you care about other European countries.
Switzerland has a sparkling clean reputation when it comes to corruption, so the banking system does not have any records of being affected by such issues. The economy is modern and constantly adapting to the latest trends in this industry. The infrastructure is great, while the small population ensures a good overall management.
Overall, the country is peaceful and has successfully managed to avoid economic or political corruption. In fact, every type of bribery you can think of is considered a crime in Switzerland.
Other than that, it is worth noting that there are no restrictions regarding your wealth in Switzerland. It makes no difference how much money you want to bring in the country, just like no one will really care if you want to take all your assets out. Moreover, the country is a great solution if you are after offshore
gold storage
.
Disclosing the best options for a Swiss bank account​
Choosing the best Swiss bank account depends solely on your needs and expectations. Some banks are more popular than others because they provide more services and feel more convenient in terms of account management. Others could be classified as niche banks, meaning they support customers with particular necessities.
CIM
Banque
CIM Banque
was established in 1995 and is currently headquartered in Geneva, Switzerland. It is not just one of the most reputable banks in Switzerland, but it is also a global financial trading platform for those involved with this industry – not to mention its multi asset brokerage operations.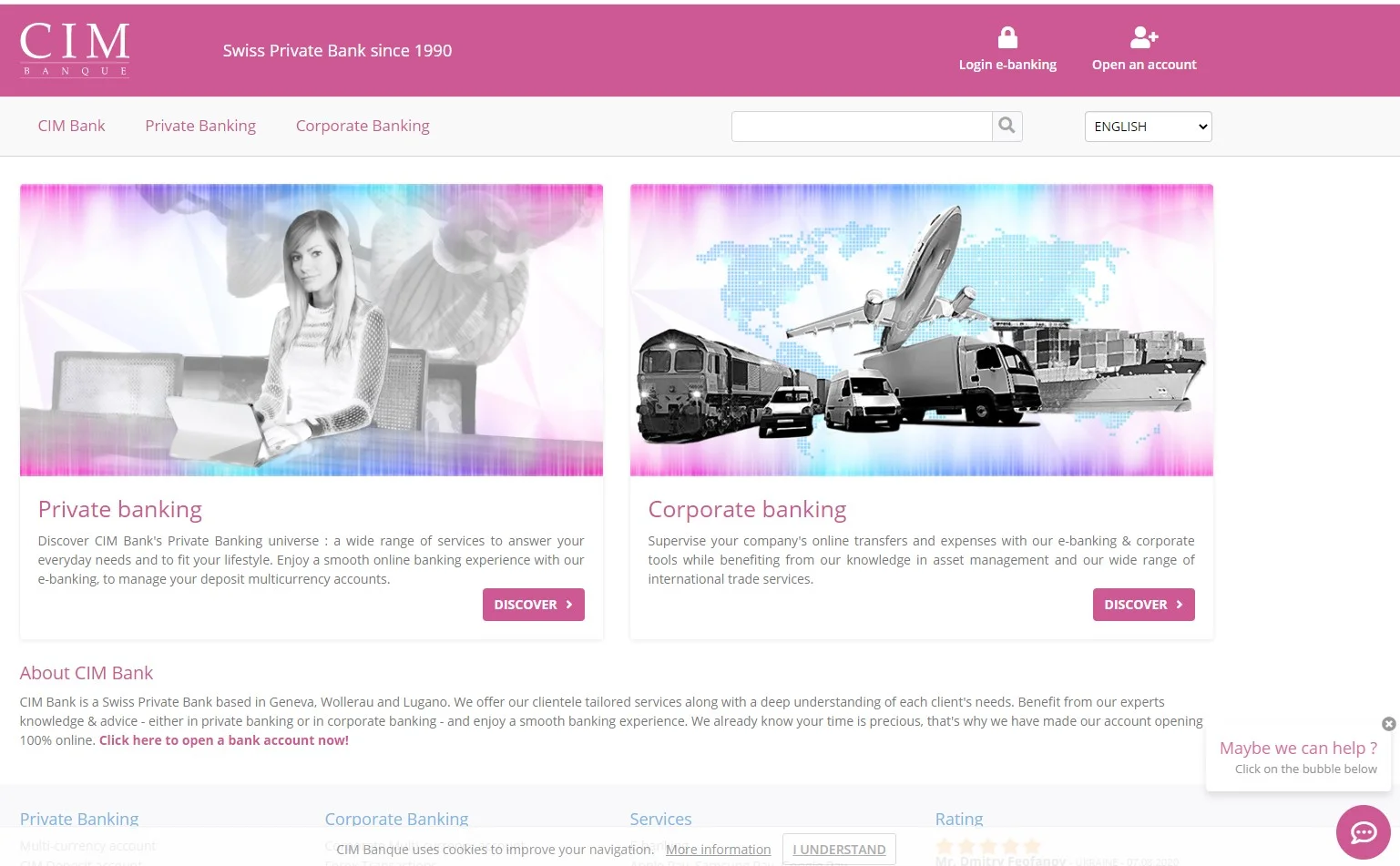 In terms of banking, you have all kinds of services at your disposal, from classic current accounts and saving accounts with debit cards to credit cards and asset management. You can get loans for everyday needs, as well as mortgages should you decide to move to Switzerland.
There are more ways to open an account. You can do it in person or over the phone. You might have to send some documents by email though, so online applications are widely accepted. CIM Banque has its own mobile applications and provides mobile banking through its website as well.
Given its popularity and reputation, CIM Banque benefits from a few regulations that will add to its customers' peace of mind. It is regulated by the Financial Industry Regulatory Authority, which is the main concern for customers. Other than that, it features regulations from the Securities Investor Protection Corporation and Securities and Exchange Commission too.
In terms of trading, its regulations will definitely add to your comfort and confidence. But other than that, you should also know there are more than 10,000 brokers and trading experts relying on CIM Banque. Furthermore, initial deposits are relatively low when compared to other trading institutions in this field.
Last, but not least, fees are relatively average, regardless of what you might need. Obviously, you will need to pay a short fee when making an international transfer, for example. But then, you will not be overcharged – fees are likely to change every now and then, so double check before opening an account.
UBS
UBS
is not just one of the largest banks in Switzerland, but also one of the oldest banks in the world. It was established in the 19th century and can be classified among the top 30 largest banks out there. Its assets are astonishing and used to exceed CHF 2 trillion a few years ago.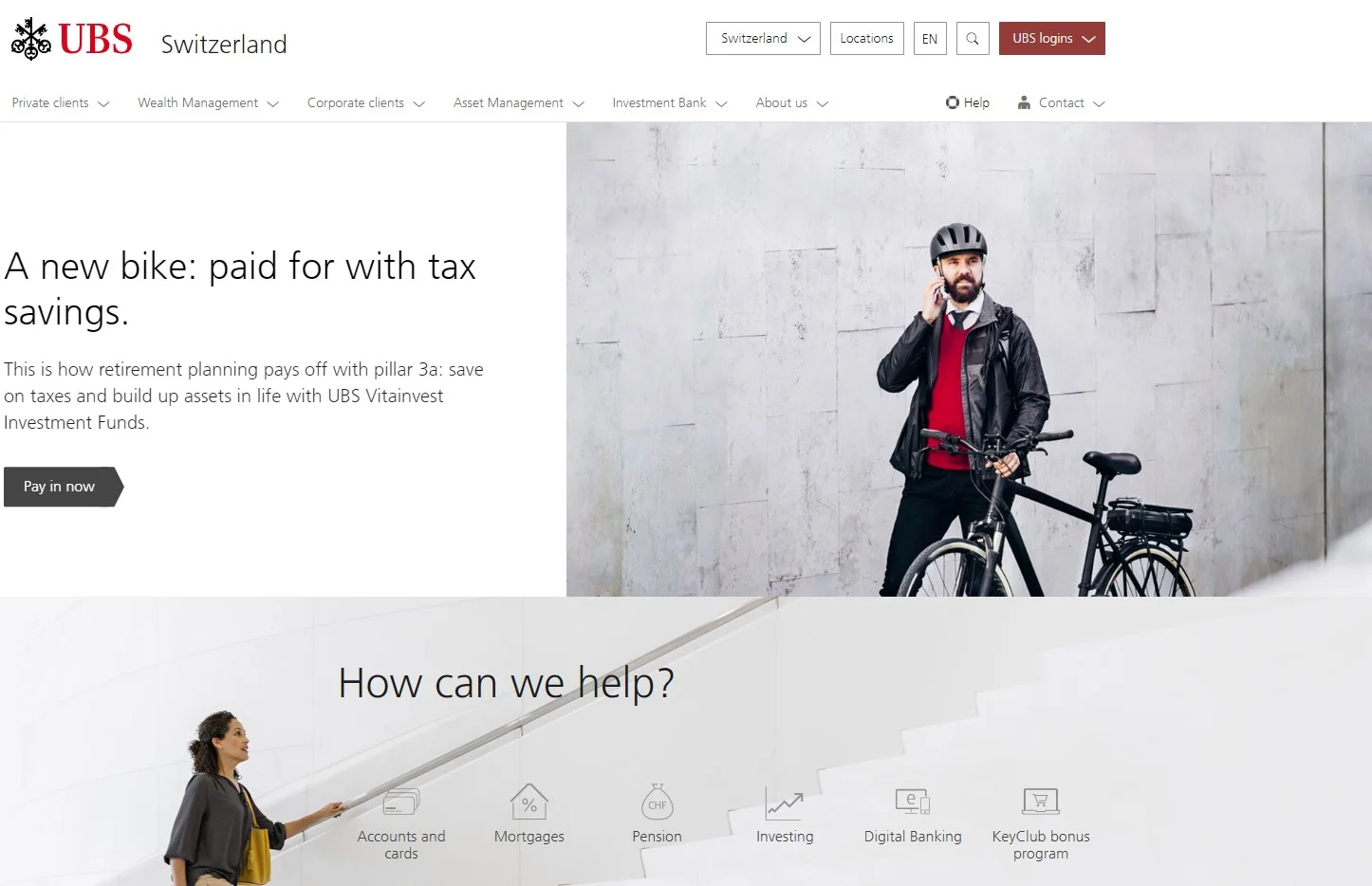 When it comes to Swiss residents, it is one of the top two largest and most common options – along with Credit Suisse. Dealing with the bank itself is a pleasure for most people. The bank is everywhere and has branches in small villages and towns as well. Plus, the customer service is flawless – no issues whatsoever.
Foreigners may face a few challenges here and there. As long as you are not a resident, get ready to be asked for all kinds of documents – the bank takes its reputation seriously and will not take any risks at all. It might seem difficult to approach it, especially if you come from a country where the bank does not have an active presence.
The same rule applies to opening accounts. Residents will not face too much trouble – not even those interested in business banking. Foreigners may need to prove that they can afford banking in Switzerland and will most likely be asked for considerate deposits – up to CHF one million or even more.
UBS accepts accounts of all kinds – from current accounts to credit cards. You can get loans, mortgages or ask for asset management. Corporate banking is also available, whether you do it in person, by phone or over the Internet. At the same time, you can open an account in multiple currencies, with CHF, EUR and USD being the most popular ones.
In terms of customer service, almost each account is given a particular name to get in touch with should any problems arise – something like a personal banker. The customer service is available round the clock and you can find representatives fluent in other languages as well. Simply put, the customer service is beyond all expectations.
Dukascopy
Dukascopy
might be a bit difficult to define because it runs and operates like a bank, but it has a few different specializations as well. Established in 2004, it is relatively new on the Swiss market when compared to the giant players, but it has managed to gain a great reputation during its first years out there.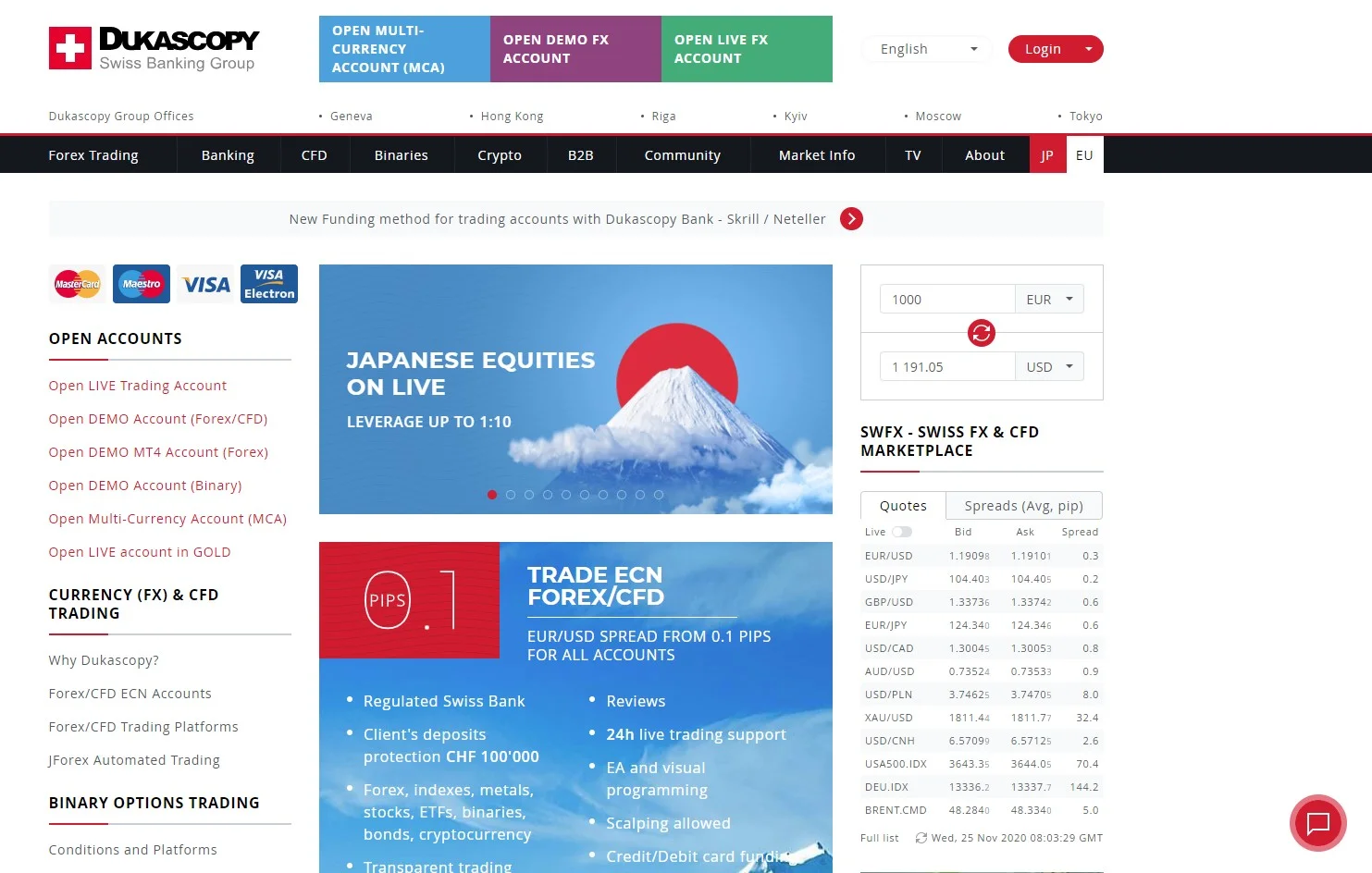 In terms of banking, Dukascopy will provide all kinds of services – it makes no difference what you are after. You could be after an offshore account – personal or business. Residents have access to the same features, not to mention loans or mortgages, corporate banking and savings accounts. Asset management is also offered.
Apart from banking, Dukascopy has gained notoriety as a superior online brokerage provider – one of the top institutions in this field. Moreover, it has a trading platform for both beginner and professional traders who want to get involved with this domain.
Dukascopy is often known for its banking services in Switzerland, but its international reputation is mostly based on trading. It has thousands of customers from Asia and Europe and specialized in Forex, binary options,
cryptocurrencies
and contracts for difference.
Since it operates like an actual banking institution, Dukascopy's trading platform is considered extremely safe. It is also regulated by the Financial Market Supervisory Authority and holds multiple licenses to run as a brokerage company in more countries. In Asia, it is more popular on the Japanese market.
Whether you are after banking, brokerage or trading, Dukascopy can be accessed in multiple ways. Its customer service is available on a 24/7 basis and you can run an account in person, over the phone or Internet.
Apart from these three leading institutions to open a Swiss bank account, you may also want to consider other national alternatives:
Credit Suisse
Raiffeisen
Swiss Post or Post Finance
Keep in mind that apart from Solothurn and Appenzell Ausserrhoden, each canton has its own banking institution, meaning your options are even more diversified.
Top 10 Banks in Switzerland​
Conclusion​
Bottom line, starting a Swiss bank account is not necessarily a thing for the wealthy. There are lots of good options out there and it makes no difference what your reasons are – whether or not you actually want to move to Switzerland. At the same time, there are more options for current or business accounts. A little research and some comparison will lead you in the right direction.
Last edited: