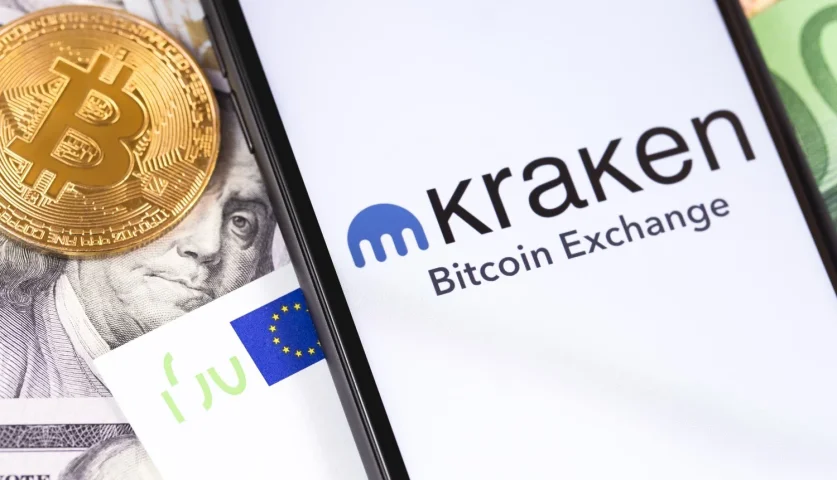 ​
If there is one constant in the vast, ongoing, cryptocurrency exchange war, it's this fact: Kraken is a big dog. Despite fierce competition from feature-rich Coinbase and Binance, Kraken remains a force to be reckoned with due to its large crypto asset catalog, numerous other attractive features, and global reach.
For these reasons and more,
Kraken remains a top-rated
, overall trader choice winner for
cryptocurrency trading
, along with Coinbase and Binance. Whether you want to invest in the crypto long term, trade crypto assets in the shorter term, or you just want to make a cost-effective cross-border transfer, Kraken is the exchange to rock out to.
Cryptocurrency exchanges used to be largely defined by the coin listed. Nowadays, these exchanges have the same list of crypto assets, offering hundreds of tradable pairs, and they generally make new listings at the same time. You wouldn't have much trouble finding the preferred service out of any of them. What separates Kraken is the quality of asset discovery, the user experience on the desktop and mobile applications, and extra features like staking.
For this Kraken review, let's put each feature up to the test to drive through the holes in the system and identify the best of its exchange platform.
Kraken owes a majority of its success to its ubiquity. You can access Kraken by launching the web application, downloading the desktop app, or installing its mobile application. Kraken has built a crypto product that is as simple as it is elegant.
About Kraken
Kraken is one of the most popular cryptocurrency platforms globally, notable for its low fees. It's an enthusiast pick, thanks to the quality of the trading experience. It is one of the older exchanges, founded in 2011 in San Francisco with a regional presence all around the world. This exchange happens to be one of the first places where
bitcoin
was bought or sold. Kraken has remained a top leader in crypto trading since its inception, currently on the number four spot among the other cryptocurrency exchanges in the world by trading volume, according to data by CoinMarketCap.
Through the Kraken exchange, investors have bought and sold bitcoin and more than 50 cryptocurrencies in minutes. The exchange now has over 5 million customers worldwide. Kraken features both basic and active trading platforms, but its limited directory of tradeable crypto assets makes it the better option for beginners and casual traders. It also supports institutional investors on competitive priced trading plans. Yet, Kraken also has a mixed reputation. The website has some user-reported hacks that are known to be costly as users lost thousands of dollars in crypto assets, yet received little to no support from Kraken.
Still, traders enjoy useful options and features, which isn't noticeably different from other
crypto exchanges
. It features a trading workspace that is suitable and tailored to beginners to expert traders. Beginners do better on the basic platform, whereas experts opt for Kraken Pro, which comes with advanced margins and trading features. The combination of all features and options makes it likely the best exchange to handle any cryptocurrency needs.
Top 5 features of Kraken
1. Security​
Kraken takes careful measures to ensure that the clients' bitcoin and cryptocurrencies are as safe as possible. The company takes a unique focus on security and compliance in order to build the trust of its customer who spans the globe. Kraken boost a leading security program focused on developing innovative security solutions that help its users to protect and secure their crypto assets.
While the system has its drawbacks, including instances where user accounts were hacked and crypto holding lost, Kraken is said to be
investing
considerable resources to help clients strengthen account security through two-step verification settings on all accounts.
2. Customer Support​
In the world of digital currencies, getting the tools to seamlessly build a crypto portfolio and invest in the future is something the industry does not take for granted. Central to Kraken's mission is to consistently improve the user experience by bringing customer support closer to each client.
Kraken offers robust tools for easy onboarding compared to other exchanges. This company makes it easy for users to manage their accounts, trade, and much more with greater ease. As the goal now shifts to eliminate the technical requirements that have been a barrier for crypto adoption, Kraken is scaling its customer support muscle to address every customer concern or question quickly.
3. Mobile App​
The Kraken mobile application puts one of the best crypto exchanges and wallets in the trader's hand, for trading on the go. This app is an intuitively designed platform that prioritizes
portfolio management
, where customers can stay on top of market trends, build investment strategies, and execute trades to create wealth.
Kraken offers best-in-class security features and trusted custody solutions that make buying, selling, and holding on top assets as convenient and easy as launching a mobile app. That means the user will never miss a market movement thanks to price alerts and other notifications that alert you when the right moment to strike arrives.
4. Trading Platform​
Kraken makes it simple to research the crypto market,
buy bitcoin
and more than 50 other cryptocurrencies, and build a strong portfolio optimized for the future of the market. The trading platform features a streamlined view that gives you access to all the tools a user needs to understand the crypto market and start investing in your favorite assets.
It features a clean and minimalistic look, complete with an attractive interface that makes buying and selling simple. Kraken specifically modeled the platform to make managing portfolio at-a-glance possible. Users can see account balance, 24-hour value change, and more metrics for informed decision-making.
5. Coin Staking​
Staking is a useful way to put your crypto balance to work. With Kraken staking, users can receive up to 23% in yearly rewards (depending on the crypto being staked) for cryptocurrencies, including stablecoins. Kraken lets you opt into the staking program as soon as you can purchase the number of approved cryptos to start earning interest.
Unlike many other opportunities to make money from your crypto holdings, Kraken lets you redeem your stake and move back your coins to your trading account (inclusive of the rewards) at any time. The staking program supports cryptos such as bitcoin, Cardano, Kusama, Algorand, Polkadot, Flow, Solana,
Ethereum
, Cosmos, Kava, Tezos, Euro, and
US dollar
.
Crypto Exchange​
Pros and Cons

Pros
Lists more than 50 altcoins
User-oriented interface
Highly liquid exchange
Bitcoin futures trading
Cons
High fees
Some reports of losses due to account hacks
Kraken Pro​
Invest in bitcoin and altcoins like a pro with the world's #1 mobile trading application. Expert and pro traders now have the option of trading inside an advanced trading platform in Kraken Pro.
Kraken Pro sets the standards for advanced trading, security, compliance, user experience, and investor protection with its pro-trader-oriented trading platform, all within a mobile package.
This high-performance app delivers a professional-level experience to active traders. It offers access to almost the same tradeable assets for trade, with the lowest fees for high volume trades, and advanced order types.
Kraken pro delivers an experience of superior execution and investing conditions that Kraken has come to be known for. After all, Kraken claims to pride itself in offering fully transparent quality execution, alongside some of the best-advanced trading conditions in the industry. It features an intuitive interface that displays real-time order books, access to advanced charting tools, trade history, and a simple order and trade execution process that makes onboarding seamless. Kraken pro might be a great platform for experienced traders, but beginners will find it difficult (maybe even unnecessary) to use.
Trade crypto like a pro on the go! Kraken Pro is all the power of Kraken cryptocurrency exchange in the palm of a trader's hand. While the app is mainly on mobile, users can access the same through a browser and enjoy similar features and options. It is designed to provide traders who mean business with a powerful platform to enhance their trading experience, tailor-made to be easy-to-use and efficient to integrate into the users' trading operations.
Today, it is one of the fastest-growing crypto apps on the planet. Kraken Pro is exactly what an advanced trader needs to grow what sets them apart.
Fees​
This exchange offers a variety of fee schedules that depend on the product the user is subscribed to, and the usage level of the app. Kraken fee schedule for purchasing cryptocurrencies is just at the industry average. Purchasing bitcoin, for example, attracts a fee of up to 1.5%. There is also a 0.9% fee for buying a stablecoin like USD coin in fiat, and a fee of 1.5% for exchange the stablecoin for a cryptocurrency.
Kraken relies on a maker-taker fee schedule based on the 30-day volume traded in USD.
A 30-day trading volume of up to $50,000 attracts a maker of 0.16% and a taker of 0.26%. In the same way, Kraken pro charges a fee for trading volumes of between $50,000 to $100,000 and $100,000 to $250,000 at a maker fee of 0.14% and 0.12%, and a taker of 0.24% and 0.22%, respectively. Kraken offers a fee schedule that is designed to encourage traders to engage the market and drive liquidity.
Top 2 Alternatives​
Coinbase vs. Kraken
Kraken or Coinbase? The question of which is the best cryptocurrency exchange used to be easier to answer: Coinbase trading platform was appealing, but Kraken offers more opportunities and extensive integration that made it a deserved category leader. However, today, it is not so clear. Coinbase has made big strides in improving exchange services offering, including the addition of Coinbase pro for advanced traders, which has the added advantage of insurance-backed accounts. The rival Kraken comfortably wins, on the back of its curated products and services, value for money, and a wealth of supported infrastructure for crypto trading.
Binance vs. Kraken​
Kraken or Binance?
Deciding between the two giant cryptocurrency exchanges isn't easy, least of all because both are among the top 5 exchanges by trading volumes. Besides, there are a lot of similarities between the two, with both getting more and more alike with each passing day.
Fortunately, the user experience on both exchanges has a clear distinction, since they are designed to operate very differently
. Binance is a comprehensive service and offers a considerable amount of cryptos more than Kraken (now complete with its own ecosystem), but Kraken is more detailed and has a lot more resources at the trader's disposal.
Is it the right trading platform for you?​
Kraken, simply put, is an excellent cryptocurrency exchange that has won the hearts and minds of traders (professionals and beginners alike). It is the best trading platform for you if you are the kind of trader who prioritizes the user-friendliness of the user interface, especially on the mobile front, where you can buy, sell, and store crypto on the go. Kraken is also perfect for traders who want to earn interest for staking unused cryptocurrency balance in the exchange of solid returns.
It is a good fit for investors and traders who want a full-featured trading platform that is simple and elegant as it is secure for wealth creation. Kraken doesn't have as much trading volume as competitors like Coinbase and Binance, but offers a cohesive trading ecosystem that's better than other exchanges. For the retirement mind investors, where holding on to cryptocurrencies for the long term is the game of preference, Kraken offers one of the best security solutions to safeguard your assets.
Even though Kraken might seem a little limited by comparison to the giants in the industry, it is able to offer services that many other exchanges can't match, which is pretty damn amazing. Kraken is a solid exchange choice for beginners and seasoned enthusiasts alike, while Kraken pro is geared more towards those with advanced knowledge of trading strategies and tools – and has many features and options suited for those looking to do more than simply trading bitcoin.
Last edited: