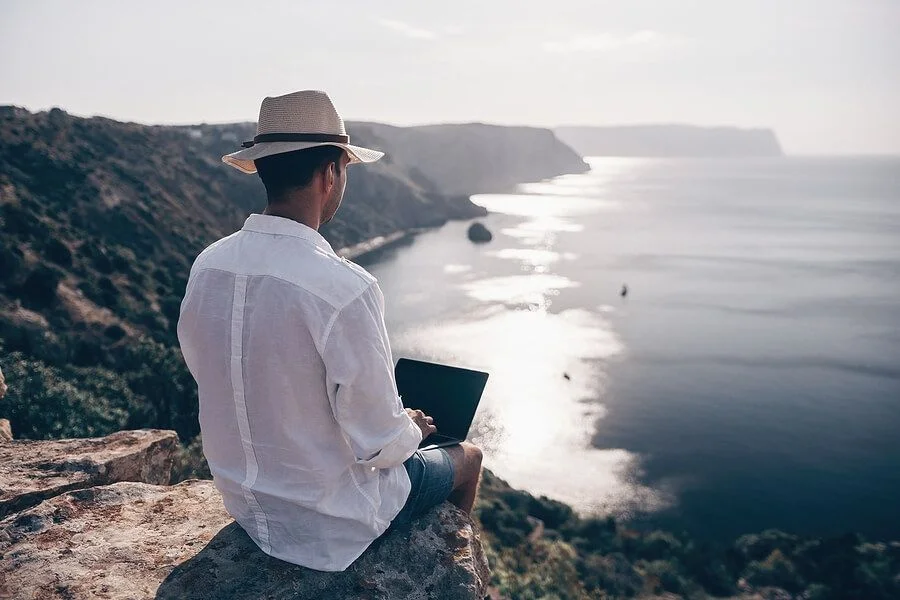 Digital nomads used to be considered the luckiest people in the world – work online and travel around the world as you do it. With the recent coronavirus pandemic, more and more people turned to work from home, and it actually worked well.
Homeschooling also became an option, so the trend is no longer about digital nomads, but about digital
nomad
families. Some people do it for the joy of traveling while working. Some others do it for financial purposes.
Get a good accountant, find out more about
tax residency
and perhaps start a small
offshore company
as you travel anyway – come up with a strategy, and you will save a fortune. Now, the necessity of a visa could be a bit of an issue.
Different countries offer different types of visa – some countries also offer digital nomad visas.
The digital nomad visa is not new at all, but it gained notoriety throughout the coronavirus pandemic. More and more companies allow employees to work from home. At the same time, many countries have implemented this concept to ease the process.
Such a visa allows a remote worker to stay for much more time than with a traditional tourist visa. There are some differences between the traditional visa and a digital nomad one – for instance, you do not have to do everything that an expat has to handle.
In many places, you may not have to pay tax, open a
bank account
, or aim to get residency. What do you need then? You have to prove a stable income in most countries, pay the actual visa and get health insurance – simple as that.
A digital nomad visa is a travel authorization. It legalizes certain aspects related to your status on the move. Just like tourist visas, digital nomad visas do not bring in too much hassle – they are easy to obtain locally or in an embassy or consulate. Plus, they allow longer stays.
This visa gives you the opportunity to work while living in another country. Conditions are general – you need to be independent and remote. You have to show that you are actually a digital nomad and sustain yourself while living in another country.
Each country has specific rules and regulations. Some of them allow you to apply over the Internet. Others will demand your physical presence in an embassy or consulate. Prove your income and get a valid passport – double check the requirements and go for it.
Keep in mind that not everyone is eligible for such a visa, even if they meet the requirements.
Digital nomad visas in Europe​
Here are a few good options to consider in Europe.
Croatia
Croatia has a few things that can make your work experience flawless – good Internet speeds, four seasons, interesting and old cities, an incredible coastline, and plenty of islands. It is
rich
in history and tourism. You can get the digital nomad visa for up to a year.
You must be away for half a year before reapplying for it. Double check monthly income requirements, as they may change – they are over €2,000, though. Apply in Croatia or at an embassy or consulate.
Estonia
Estonia
has a similar offer – up to a year. Its electronic
residency program
is unique – one of the first in Europe, showing that Estonia has understood the necessity of foreign
investment
. The nomad visa was the first of this kind.
The income requirements are higher – over €3,500. You have great Internet speeds and beautiful and historical cities to explore.
Germany
Germany's freelancer visa is basically a short-term residency permit. It is given for at least six months, but it can go up to three years. You need an address in the country, as well as proof of being able to support yourself.
It takes around four months to get it, and it implies lots of paperwork. Other than that, you have good infrastructure and services, as well as numerous facilities.
Portugal
You just cannot go wrong with Portugal – great weather, lots of sunshine, an exotic country, beautiful beaches, and friendly people. The visa is given for a year, but you can renew it later on for up to five years. You can also apply for permanent residency.
Whether you choose a big city like Porto or the quiet beaches of Algarve, Portugal is an inexpensive country. The income requirements are also extremely low – around €600 a month. The infrastructure is great, and access to facilities is fairly simple.
Malta
Malta is a small country with extraordinary weather and lots of opportunities for entrepreneurs and business people – also known as a
tax haven
for those who establish offshore businesses. It is one of the first countries to introduce a nomad residency permit, yet it is mostly aimed at those out of the EU.
The one-year permit can be renewed, and the income requirements are around €2,700. You also need to show proof of buying a property or renting one. The Internet speed is great – 5G available. English is an official language, and you have an impressive expat community.
Romania
Romania has the fastest Internet speeds in the EU and offers a full-year digital nomad visa that can be renewed for another year. The country has four seasons and a typical Eastern European atmosphere. Income requirements exceed €3,000.
Should you choose Romania, get ready to deal with the local bureaucracy – you will most likely need a translator or a specialized service. The high-income requirements prevent the country from attracting entrepreneurs – especially when compared to countries like Portugal, which also has better weather.
Georgia
Georgia has skyrocketed in popularity lately. Around 100 countries can get in there and stay for up to a year without a visa. The cost of living is super low, and the individual entrepreneur scheme – which applies to digital nomads – brings in a simple 1%
income tax
.
The cost of such a visa is free, but you need to prove an income of €2,000 a month. You have mountains, beautiful landscapes that look like Switzerland, the sea and plenty of cultural places. Think about the amazing cuisine too, and you might have found the perfect location.
Czech Republic
Good Internet speeds, impressive cities, lots of culture and history, tourism and a rich nightlife – this is what the Czech Republic can offer. The visa – known as ziyno – is given for those with licenses in specific trades, and this is what makes it complicated – nothing too modern.
If you are an expert in fruit distillation, fertilizer manufacturing, or vessel design (among many others), you will get the visa for free for up to a year. It can also be extended. Income requirements exceed €5,500 a month.
Iceland
Iceland is a stunning country – highly civilized, where everyone can speak English. It has amazing and unique landscapes that you are less likely to find somewhere else. However, the country is also among the most expensive places in the world.
Income requirements are around €6,500 – a decent discount for couples. The mix of rural areas and modern cities makes it worth it, though. You also have great infrastructure and superior Internet speeds – there is not much to complain about.
Norway
Similar to Iceland, Norway is not for everyone. The country is extremely wealthy due to its incredibly high sovereign wealth fund. It also has large oil deposits, so the cost of living is quite high. The so-called independent contractor visa will give you two years.
Compared to other countries, the visa will also cost about €600. You will need to prove that you have accommodation and an income of over €35,000. Internet speeds and the infrastructure will not disappoint you – great if you like cold landscapes as well.
Spain
Spain has a non-lucrative visa, which is aimed at retired foreigners or business owners who do not really need to work. It is also a great choice for digital nomads – after all, who can track remote work anyway? This visa is given for a year, but it can be extended.
The income to prove exceeds €2,000. Internet speeds are great, but more importantly, you have plenty of cultural cities, different regions with different traditions, sun kissed beaches, and people with a friendly attitude. The cost of living is relatively low too.
Greece
Greece has a bit of everything – lots of culture, historical buildings everywhere, incredible cuisine, plenty of islands and the perfect weather. When it comes to money, there are two types of visa for digital nomads – one of them covers seven years, while the other one is given for a year, but it can extend.
The cost of living is low, and the visa is relatively cheap. You must prove an income of about €3,500 a month, though. If you have a family, income requirements are higher. The Internet has decent speeds, and the infrastructure is good enough to allow traveling all over the country.
Hungary
Hungary has some of the fastest Internet speeds in the EU. It is quite civilized and represents a mix between modern – yet old school – cities like Budapest and immersive countryside. Known as a white card, the visa is given for a year and can be extended for another one.
The visa is individual. Couples must apply separately. Basically, it is aimed at young singles. Income requirements are not too bad either – around €2,000 a month. You will have to prove the consistency of your income over the past half a year, though.
Digital nomad visas in South America
If you are after a South American adventure, here are a few good options around the continent.
Brazil
Brazil is the first country in South America to introduce such a visa. It is given for a year and can be extended with another year. You can get the visa at your local Brazilian embassy, so you can get ready in advance.
Income requirements are relatively low – about $1,500 a month. The weather is great, and people are warm, but just like other countries, you need to stick to touristy places, or you risk endangering yourself. Other than that, the cost of living is relatively low too.
Digital nomad visas in Central and North America
Here are the best choices if you want a northern experience in America.
Costa Rica
Costa Rica is one of the most civilized countries in America. You gain access to lots of beaches, surfing opportunities, a chilled lifestyle, and unique landscapes – from jungles and volcanoes to waterfalls and forests. There are two visas.
Rentista offers two years and can be expanded, but it is only for self-employed professionals – a $2,500 monthly income. It is not given to those working for companies, but to those working for themselves. The other digital nomad visa offers a year and asks for $3,000 a month or $5,000 for a couple.
Panama
Panama is the most advanced country in Central America. Compared to other countries on the continent, it has a high cost of living. With all these, it is still exotic with its unique beaches and large cities, not to mention a good infrastructure and good Internet speeds.
The visa is inexpensive and given for nine months only – you can extend it for nine months more. The income you have to prove is $36,000 a year – way higher than for other countries in the area, which showcases the high living standards.
Mexico
Mexico is an attractive culture if you come from another continent. It has different landscapes, colonial architecture, the Mayan history, beaches, and a stunning atmosphere. The low cost of living is the main reason wherefore so many digital nomads choose Mexico.
The visa is given for a year, but it can be extended for another three years, so you can be there for four years. The income needed to get it is quite low too – around $1,600 a month. The Internet speed is not the best, but you can get the job done.
Digital nomad visas in the Caribbean​
The Caribbean could be classified as part of America, but the unique profile of this place requires a standalone category. Most places in the Caribbean are excellent for tourism, but they are also associated with tax havens. Here are some of the best choices.
Barbados
Barbados offers the opportunity to live on a peaceful and chilled island in the Caribbean. The place is well connected to nearby countries and allows exploring other islands or countries in Central America. While not the cheapest place in the world, it is still cheaper than other places in the Caribbean.
The Internet speed will pleasantly surprise you, not to mention the beaches and relaxed atmosphere. Costs for the visa can exceed $2,000, while the income requirement goes up to $50,000. You will only get the visa for a year, though.
Bermuda
The cost to apply for a nomad visa in Bermuda is cheap and will give you a year of residency in a quiet and exotic location. There are no requirements in terms of your monthly income, but you will need to prove that you can support yourself.
Bermuda is one of the most expensive places in the world when it comes to living. It is often seen as an exclusive destination for the super-wealthy, so you need to ensure you can actually afford to live there for a year.
Anguilla
Anguilla is a relatively small island counting around 15,000 inhabitants. It offers an exclusive experience – a bit remote and far from the agitation associated with big cities and intense nightlife parties. Some nomads will appreciate the silence and joy – far from everything, but in a heavenly location.
The program will cost about $2,000, and there are no income requirements to prove, yet you will be asked about such things – each case is unique. The visa will be given for a year. Internet speeds and the infrastructure are not the best, but this is what it means to be remote.
Dominica
Dominica's digital nomad visa is named accordingly – Work in Nature. Get to an exotic island with thick forests, white sand beaches, and great weather. The volcanic island offers income tax break, too, as well as a great infrastructure, schools, and facilities for foreigners.
Dominica is one of the cheapest options in the Caribbean. The cost of living is not too low, though, but similar to what you can get in a western country – such as Canada or perhaps the UK. The visa comes with an income requirement of $70,000 a year and is given for 18 months.
Curaçao
Curaçao is slightly different from other islands in the Caribbean. It feels like you are in the Netherlands when you look at those nicely colored buildings, but the beaches and weather make you experience a more exotic feeling. The program is up for half a year, but it can be extended by another six months.
You will pay around $300 for the application. You need to prove solvency, but without any specific limits in terms of monthly or yearly wages. The cost of living is now too low – something similar to the USA or perhaps France or Italy.
Antigua & Barbuda
This digital nomad visa is known locally as a digital residence. The location is perfect if you like sunny weather and beaches. There are 365 different beaches – try a different one every single day. The cost is about $1,500 for a single individual – discounts for couples and families.
The digital nomad visa is given for a couple of years. You need a solid income, though – around $50,000 a year. Internet speeds and the infrastructure are slightly better than in other parts of the Caribbean, but not as good as in developed countries.
The Cayman Islands
The
Cayman Islands
are known for the
tax haven
profile. Such a digital nomad visa is not suitable for everyone, but for wealthy professionals only. It is pretty obvious if you look at the income requirements – $100,000 a year.
The visa will cost around $1,500 and will be given for a couple of years. You can go in and out as much as you want. The visa is aimed to attract wealthy executives. Internet speeds are surprisingly high too, but quite costly.
Montserrat
Montserrat has a small population and lots of remote places to explore and relax in. It is an excellent place if you are after peace and tranquility – being able to recharge your batteries in the middle of a paradise will seriously help.
The program will cost about $500 for a single individual and will be given for a year. You need to prove a decent income, though – $70,000 a year. The Internet speed is not too fast, but it works. The infrastructure is suitable for a remote place.
The Bahamas
You cannot really go wrong with this place. The Bahamas is a small paradise consisting of a bunch of islands – no taxes. You can swim with those famous pigs, hop from one island to another and so on. The application requires a letter from your employer or proof of profitable self-employment.
The visa is given for a year, but you can extend it by three years. The Internet is quite fast for the Caribbean, so working remotely should not be an issue. Besides, all the islands provide easy access to the USA – especially Miami.
Saint Lucia
Saint Lucia is one of the latest places in the Caribbean to introduce visas for digital nomads. The local government has understood the benefits over the local economy and is trying to take advantage of wealthy foreigners. There are no minimum income requirements, and the application costs about $75.
The visa is given for a year. You can go in and out as many times as you wish. The Internet speed is decent, while the cost of living will not drain your budget – similar to Italy, France, or perhaps the USA. If you can live decently in your home country, you can do the same in Saint Lucia too.
Digital nomad visas in Africa​
Africa is quite attractive for its unique culture and the low living costs. Here are some good options.
Mauritius
Beaches, mountains, and wild jungles in one place – this is what you should expect from Mauritius. Moreover, this digital nomad visa is free of charge – nothing to pay for the application. You do not need proof of a particular income, but you have to prove that you work or you have a business.
The visa is given for a year only. In terms of facilities, there are great amenities to make you feel like you are on holiday. Besides, the local cuisine is inspired by the Indian one, while Internet speeds and technology are quite alright.
Seychelles
Seychelles is one of the most beautiful countries around Africa. It consists of a bunch of different islands and represents a good choice for digital nomads – as well as offshore professionals. The cost is low, and the visa is given for a year.
Requirements are basic and straightforward. You obviously need a valid passport, as well as proof that you work in another country or have a business. A health insurance is also needed. As for local facilities, you will be impressed – after all, Seychelles caters to foreigners.
Cape Verde
Just like Seychelles, Cape Verde is an archipelago, meaning you gain access to 10 different islands. It is close to the African continent and brings in outstanding weather, beautiful beaches, and plenty of tranquility.
The digital nomad program is suitable to people from most countries – very few exceptions there. It offers six months and can be extended by six months. The income requirement goes to about €1,500 a month. The cost of living is similar to Cyprus, Spain, or Portugal.
Digital nomad visas in Asia​
Asia has always been an attractive destination for foreigners and entrepreneurs. Certain places are more appropriate than others. Unlike many expectations, offshore havens are not always suitable for digital nomads. Here are a few interesting options to consider.
Sri Lanka
Officially, Sri Lanka does not really have a digital nomad visa, but there are certain visas that are similar. Most conditions depend on the country you come from, as well as the duration of your visit. The good news is extensions up to almost nine months are easier to get than ever.
Most countries in Europe, Australia,
New Zealand
, Canada, Japan, and the USA – among others – are eligible for extensions up to 90 days over the Internet. Longer extensions will come with higher prices – proportionally. Overstay, and you will be hit with a fine.
Sri Lanka is an attractive option because it has crystal clear waters, plenty of clean beaches, national parks, its own cuisine, and lots of culture and history. The cost of living is incredibly low, while facilities and Internet speeds are decent.
UAE
The UAE – and especially Dubai – are more attractive than ever when it comes to foreigners. Dubai has its own virtual working program that will give you a full year as a remote worker. As you may already know, Dubai also has a zero income tax for people.
What does it mean? You can hang out with the rich, spend your time in an incredible location on the coast, and pay no taxes. The visa cost is under $300. However, you need to prove a decent income – $5,000 per month or more. You also have to provide proof of employment.
The cost of living is relatively high – keep in mind that this is one of the most exclusive destinations in the world. Dubai, in particular, is more expensive than other parts of the UAE. Facilities are extraordinary, though.
Taiwan
Taiwan has become a popular destination for digital nomads over the past decade. It may not necessarily have a specific visa, but it does have its own program. The so-called gold card program is a work program for the country.
The primary role of the program is to bring in professionals to the country. You do not necessarily need some skills or professional education. Prove that you can make $5,700 a month, and you will be allowed in the program. Skills are cheaper, though.
There is no such thing as a specific duration for this program. The cost of living is not very high, but higher than in other Asian countries. You have good Internet speeds and a pretty solid infrastructure as well.
Countries that may implement digital nomad visas soon
There are more countries preparing to introduce digital nomad visas. It is a common reaction to the coronavirus pandemic. But on another note, it is also a way to draw investment into a country – talent, professionals, and money.
There are no doubts about it – more and more countries will join the trend.
Here are a few other countries that are likely to implement this type of visa in the close future:
North Macedonia – great Internet speeds and lots of tourism.
Belize – the government recommends working where you go on vacation, so the visa is likely to become public soon.
Serbia – good Internet speeds and a low living cost, but income requirements are expected to be high.
Grenada – relatively low income requirements on a green island in the Caribbean.
Thailand – lots of freelancers work remotely in Thailand, but the visa is not official yet.
Cyprus – excellent weather and good facilities.
Montenegro – stunning landscapes and a low cost of living.
Latvia – one of the fastest-growing countries in Europe.
Conclusion​
Bottom line, the digital nomad visa is a reality now. Back in the day, freelancers and remote workers tried to work around laws and regulations in order to work where they go on vacation. Today, they can do it officially.
The list is quite impressive, and chances are more countries will follow. At this point, becoming a nomad is no longer a dream. You no longer have to figure out ways to stay and work in a different country legally – instead, simply apply for a visa and discover a new lifestyle.
Last edited: